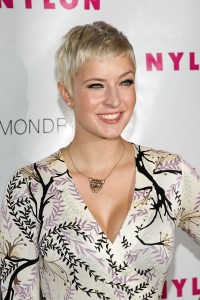 Diablo Cody, the reformed stripper and witty screenwriter, arrived to a West Hollywood party celebrating Nylon magazine's TV issue earlier this week in an elegant, knee-length wrap dress, low grey heels, understated makeup, and a very blond pixie cut. She looked pretty and put-together. The only thing by which to recognize that this was in fact Ms. Cody was the tattoo sticking out from under the dress, right above her knee. The tattoo on her arm was covered up.
Showtime's United States of Tara, which Ms. Cody created with the help of Steven Spielberg, has already been picked up for a second season, set to air in 2010. And her new feature film, Jennifer's Body, with Megan Fox, Amy Sedaris, and Adam Brody, will be out September 18. More projects are in development: she has sold a script called Girly Style to Universal Studios; written a script for Burlesque, a musical picture by Steven Antin; and is involved as a producer in adapting Breathers: A Zombie's Lament, a novel by S.G. Browne.
Perhaps the makeover is indicative of her professional success. After all, one can't be the "alterna-screenwriter-slash-former stripper with tattoos" forever. And as much as we enjoyed the former look on Ms. Cody, we're quite fond of this one too.