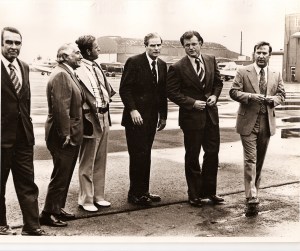 Ted Kennedy easily won the only campaign when his name appeared on the ballot in New Jersey: his 1980 bid for the Democratic presidential nomination against incumbent Jimmy Carter. Kennedy won a hotly contested New Jersey primary (held at a time when no candidate had clinched enough delegates to become the nominee) by a 58%-39% margin and a plurality of 102,722 votes.
Kennedy carried 19 of 21 counties, losing only Cape May (by 7 votes) and Salem (by 198 votes). He narrowly won Hudson (48%-46%), but won solid victories in Bergen (63%-32%), Camden (60%-32%), Essex (62%-33%), and Middlesex (52%-41%).
A Draft Kennedy campaign in New Jersey was launched in September, 1979 by former State Sen. James Dugan (D-Bayonne), who had served as Democratic State Chairman from 1973 to 1977. Five Democratic State Senators – Frank "Pat" Dodd (D-West Orange), Eugene Bedell (D-Keansburg), Angelo Errichetti (D-Camden), John Gregorio (D-Linden), and Raymond Zane (D-Woodbury) signed on, along with Assemblymen Richard Van Wagner (D-Middletown) and James Bornheimer (D-East Brunswick).
Once Kennedy entered the race, U.S. Rep. James Howard (D-Spring Lake) and Essex County Executive Peter Shapiro became the chairs of his New Jersey campaign. Fran Rein, a Democratic operative who worked for Shapiro, was the Kennedy state director. When the New Jersey primary became critical to Kennedy's national campaigns strategy, a young operative named John Sasso, came in to run the day to day operations. Sasso later ran Michael Dukakis' campaign for the Democratic presidential nomination and was a senior advisor when John Kerry ran for president.
Carter's New Jersey campaign was led by Gov. Brendan Byrne, and activist Daniel Gaby, now the Executive Director of E3 (Excellent Education for Everyone), ran the state campaign.
Since convention delegates are apportioned, Kennedy had 68 delegates from New Jersey and Carter had 45.
The New Jersey Kennedy delegates included: Harrison Williams, Helen Meyner, Sharpe James, Barbara McConnell, James Smith, Ida Castro, Jerramiah O'Connor, Rose Nagle (later Mrs. John Girgenti), June Fischer, Bernard Kenny, Stephen Salvatore, Patricia Sebold, Michael Ceponis, Alfred Wurf, Evelyn Williams, Dugan, Howard, Shapiro, and Van Wagner.