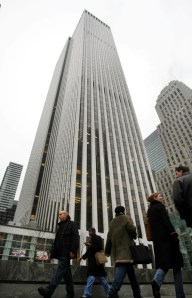 In April 2007, during those blindered days of economic bluster, The Observer published an article naming New York's 10 most expensive towers, according to prominent real estate professionals. They agreed on the most valuable single building: the GM Building. That rocket of marble and black glass, considered then and now the most coveted skyscraper in Manhattan, if not the country, was, said one, "worth $4 billion–plus."
Sure! Why not? The building sits at that delicious juncture of midtown and the Upper East Side, at the southeast corner of Central Park, above the Apple Store, and across from the Plaza and Peter Schjeldahl's favorite piece of New York public art: Augustus Saint-Gaudens' statue of William Tecumseh Sherman astride a horse.
At the time, the shimmering mirage of wealth was owned by one Harry Macklowe, a developer who was being lauded as a genius for once again rising to the acme of New York's real estate firmament.
Reality could use some manners. Less than a year later, Mr. Macklowe, in hock to Fortress Investment Group, sold his most beloved asset to Mort Zuckerman and Ed Linde's Boston Properties.
For his part, Mr. Zuckerman seemed to think he'd made the score of the century. "I got great sleep last night," he told The Observer on June 10, 2008, the day after his firm and junior partners officially closed a deal for the tower valued at $2.8 billion, the most ever paid for an office building in recorded history.
Had Mr. Zuckerman known how values would decline, he might have gotten tangled in his bedsheets.
The GM Building, based upon its reported income, is today worth between $1.9 billion and $2.6 billion, according to Dan Fasulo, managing director of Real Capital Analytics. Such is the economic reality for Manhattan's top office trophies.
Since the peak years of 2007, the trophies' values have fallen by somewhere between 25 and 60 percent. Emphasis on modifying words like "somewhere between," "probably" and "about."
SO WHAT ARE THE other nine buildings included in our 2007 survey now worth?
The 2007 most expensive list included, along with the GM Building: 9 West 57th Street; Rockefeller Center; 200 Park Avenue; the Seagram Building; 4 Times Square; One Bryant Park; 245 Park Avenue; 277 Park Avenue; and the one non-midtown entry, 7 World Trade Center. Based on interviews with real estate professionals, their values have declined anywhere between 25 and 60 percent. So, Rockefeller Center, guesstimated to be worth $8 billion in 2007, might be worth between $6 billion and $3.2 billion. 277 Park, then valued at about $2 billion, would sell for between $800 million and $1.5 billion. And The Seagram Building, in 2007 valued at around $1.6 billion, might today sell for between $640 million and $1.2 billion.