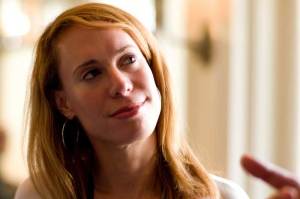 In the early autumn of 2005, Dina Kaplan was freelancing as a spot reporter for WNBC 4 New York, "covering fires and murders and bodies found in dumpsters and things like that," she told The Observer on a recent humid morning in Soho. But on Wednesday nights, the petite strawberry blonde was routinely having dinner in the cafeteria of the World Financial Center with a group of guys who were coding a new online platform for videobloggers called Blip.tv. Her friend Mike Hudack, a developer and administrator for the National Hockey League and "one of the smartest people" she had ever met, was courting her to join the team as chief operating officer, a position that would require her to shmooze with investors and make distribution and advertising deals with major media companies.
Ms. Kaplan, a Pittsburgh native, had spent the good part of a decade building her career as a journalist—from her college days at Wesleyan to reporting for MTV News during the mid-'90s—and giving it up to join a tepid tech start-up wasn't part of her plan. She was intrigued, but far from sold.
But later that September, an interview she had with Andrew Heyward, then the CBS News chief, made up her mind.
"We had a pretty formal interview," Ms. Kaplan recalled. "At the very end he said, 'What else do you do? What are you interested in?' And I said, you know, 'On Wednesday nights, I get together with some really smart friends of mine and we are starting a company, which is a platform for people creating Web shows on the Internet.' And—I will never forget this—he pulled his chair back and looked at me in a whole new light. That sort of glaze of interviewing yet another reporter, only the seventy-five thousandth of his life, ended and he snapped out of it. He looked at me directly as a person rather than another local TV reporter, and he said, 'Do that. That is the future. Forget this TV reporting thing.'
"That, actually, was the moment that I knew we were onto something," she continued. "I stopped worrying and thinking about TV reporting and spent a lot more time thinking about Blip."
Ms. Kaplan, who would not disclose her age, uploaded videos of her own on-the-street reporting from the Cannes Film Festival onto the platform. She joined Blip.tv as chief operating officer soon after.
Four years later, Blip.tv hosts and distributes more than 48,000 original Web shows via platforms including iTunes, AOL Video, the iPhone, Facebook, TiVo and Verizon On-Demand, sharing ad revenues 50-50 with content creators. The company has found a comfortable niche as a distribution site for independent content creators. If YouTube, which launched in February 2005, is the go-to spot for amateur video clips, and Hulu is the home for professional content from major networks and studios, Blip.tv is wedged in between, as the choice platform for indie Web show producers.
Late last month, Blip.tv hosted a big press event at its brick-walled, Broome Street loft, where the company now employs more than 20 people (there's usually a keg of beer on tap in the kitchen and Nintendo Wii to play with in a media area). Ms. Kaplan and the rest of the Blip.tv crew announced new distribution partnerships—with YouTube, Vimeo, NBC's Local New York station and Roku, which makes a digital video player—that promise to bring Web shows to the millions, whether via computers or on flat-screen TVs.
But now that Blip.tv has top-notch software, some good press and decent distribution deals, Ms. Kaplan and the team is taking on the task that colleague sites like Hulu and YouTube still haven't figured out: how to be profitable.
Ms. Kaplan would not disclose exact revenue figures, but it's safe to say that Blip.tv still relies heavily on venture capital to pay for all those videos on their servers and to keep engineers coding. They offer a premium membership (at $8 per month) for video bloggers, but most clients prefer the free service—and would likely abandon Blip.tv if the company decided to charge all users.
Her challenge now is to transition Blip.tv from a tech company to a media business.