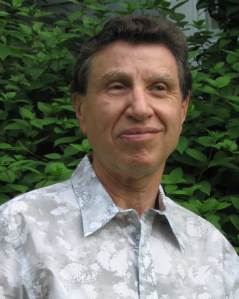 Morris Dickstein spent 29 years on Dancing in the Dark, his new book about the movies, books, theater and music that came out of the Great Depression. The book is being published on Sept. 14 by W. W. Norton, where it was edited by Robert Weil. Mr. Weil sees a big future for Mr. Dickstein's book, which came to him through the author's longtime agent, Georges Borchardt, during the summer of 2008. Mr. Weil had heard earlier about Mr. Dickstein's book, and was stunned when Mr. Borchardt told him it was available. As far as Mr. Weil knew, it was under contract with Simon & Schuster.
Mr. Weil was not wholly mistaken: Dancing in the Dark was originally signed up in 1980 by the late, great editor Erwin Glikes, who was then Simon & Schuster's president and publisher. But years of delays and distractions had left the book in limbo, and although technically Mr. Dickstein, who teaches English at the CUNY Graduate Center, was still under contract with S&S, Mr. Borchardt had managed to shake the project loose. "It was a summer gift," Mr. Weil said Monday. "I acted immediately."
When he first signed the contract with Glikes back in 1980, Mr. Dickstein figured he'd get the book done in about five years. Instead, he got bogged down with teaching, and writing book reviews for The New York Times and film criticism for various magazines. "You get hooked on publishing regularly and constantly seeing your name in print, so the long-term projects tend to slip onto the back burner," Mr. Dickstein said. To make matters worse, he added, he "foolishly" agreed to write a labor intensive monograph on postwar fiction for the Cambridge History of American Literature series, a project he said he felt more compelled to finish on time.
Mr. Glikes, meanwhile, left Simon & Schuster in 1983 for a job at the Free Press, leaving Dancing in the Dark behind. In the wake of his editor's departure, Mr. Dickstein was reassigned to Alice Mayhew. But he interacted with her only minimally, and insofar as he continued working on Dancing in fits and starts, he did so without her input. "It languished at Simon & Schuster, but I'm not sure they were terribly aware of the fact that it was there," said Mr. Dickstein's agent, Mr. Borchardt, of the project. "I think they just lost interest. I don't think anybody was really keeping track of it." Mr. Dickstein remembers sending Ms. Mayhew a chapter at some point during the '90s and getting a nice note back, but that was about as far as it went. "I live in Sag Harbor for part of the year, and she does also," he said. "I'd run into her occasionally but, you know …"
During these long years, as Mr. Dickstein wrote other books, taught classes and fiddled with Dancing on and off, Mr. Borchardt was patient with his client. "Georges has a very wry sensibility, so his form of pressure was making these gently ironic and sarcastic comments about how long the book would take, and whether any of us would live to see it," Mr. Dickstein said. But the agent never gave up hope that his client would complete the book. "I was really fairly confident that he would get through it sooner or later," Mr. Borchardt said.
It was about six years ago, once the postwar fiction monograph was behind him, that Mr. Dickstein resolved to commit himself full time to Dancing in the Dark. He stopped accepting freelance assignments and got to work. "I said, 'This is ridiculous. Either I'm going to make a big push to finish, or it's never going to get done.'"
And so it did. The question then was, who would publish it? Sure, there was the Simon & Schuster contract, but the thing was 29 years old, and by all accounts, no one involved was all that enthusiastic about honoring it. Mr. Borchardt moved to dissolve it—he declined to be specific, beyond saying "it was arranged that we could give it to someone else"—and shortly thereafter, the manuscript was in to Mr. Weil at Norton.
Why did it take Mr. Borchardt so long to execute the move? Because, the agent explained, "It's very difficult to go to a publisher and say, 'Look, I have this author here; it's true he's already 20 years late, but I think within the next 20 he really will finish this book.' You're in a much stronger position if you actually have a manuscript in hand, and you're in an even stronger position if the book is brilliant, as it turned out to be in this case."
lneyfakh@observer.com