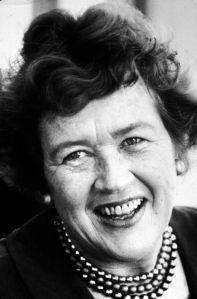 Tired of clicking around YouTube and iTunes for online videos of substance? Search no more! The Observer has your weekly handy guide to what's worth watching on the Web.

Behind the Scenes of Mad Men videos on AMCtv.com – If you need to get even more psyched for Sunday night's Season 3 premiere of Mad Men, AMC has some "Inside Season 3" videos for you to watch, including interviews with creator Matt Weiner and all of the actors, from Jon Hamm (be still, our hearts!) to John Slattery (who already gave the Observer a few words). Don't miss the tour of the costume shop (drool).
Julia Child on PBS Video – Pshaw to all this Julie & Julia hype! Take it back to the old school with Julia Child's original cooking shows online at PBS Thirteen's video site. You can even sort videos by recipe. Go on! Whip up your favorite buttery dish tonight with your laptop on the kitchen counter.
My So-Called Life on Hulu– Ah, remember the mid-90's with all its flannel-clad angst and painful self-awareness? ABC's classic drama My So-Called Life perfectly captured teenaged life on the small screen, through the doe-eyes of 15-year-old Angela Chase, played by a very delicate-looking Claire Danes (does the woman ever age?), who mooned over dreamy bad boy Jordan (played by Jared Leto who always seemed to be tucking that long, Kurt Cobain-spired hair behind his ears). The real magic of the show was the seductive chemistry and strain between Angela and her drug-addicted friend Rayanne and gay guy pal Rickie. Hulu recently added its 19 episodes on the site.
Imaginary Bitches – Imaginary Bitches is a hilarious, better than Sex and the City, YouTube sensation you probably don't know about. The Web series, which premiered last year, was just nominated for an Emmy in the "New Approaches" category. Soap star Eden Riegel of All My Children stars as a single gal whose friends all get into their boyfriend bubbles, so she creates her own social world populated by imaginary friends who aren't so friendly. The show, created and produced by Ms. Riegel's husband, Andrew Miller, is currently being shopped as a movie. A second season or 15-minute online movie is also in consideration, according to TVGuide.com.
The G.I. Joe Ballad on Funny or Die – In honor of the G.I. Joe: The Rise of the Cobra movie, Funny or Die got together a bunch of celebrity friends to star in this music video which ponders what real American heroes do for fun. Check out cameos from Alexis Bledel, Billy Crudup, Zach Galifiankais, Tony Hale, Julianne Moore, Henry Rollins and more.