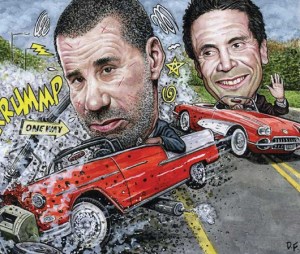 ALBANY—"Governor Paterson is having a rough time," State Senator Liz Krueger, a liberal, loyal Democrat, told The Observer during a break before a legislative hearing at the Capitol last week.
When asked if she supported him for reelection, Ms. Krueger said, "I don't know yet."
Mr. Paterson and his surrogates had hoped the summer would provide him time to recuperate. He would beat up on the increasingly unpopular legislators; travel the state, leaving stimulus funding in his wake; and remind the public that they like him, because he really is a likable guy.
Instead, the dreadful "incompetence" theme has continued to litter coverage of his endeavors, fortified by reports of an appearance at a nightclub as the state announced the budget had fallen over $2 billion out of balance; and accusations of cronyism; and basic political missteps. 
One prominent Democratic lobbyist neatly summed up the conventional wisdom in Albany about the governor's point of no return, saying, "It's already happened, because there's nothing between now and November that could give him the boost he needs. Then we'll start to see unions coming out publicly saying they don't want him to run. Then elected officials will start to come out and say it. And that's it."
Among the remaining Democrats still unwilling to declare the governor finished (these optimists tend to be the governor's closest allies), there is a recognition that things have to change more or less immediately.
"He doesn't have a lot of time," said Bill Perkins, a state senator who sits in Mr. Paterson's former seat, and who does support the governor for reelection. "The window is closing, not opening."
Several people, in Mr. Paterson's camp and out, have pointed to the coming special session of the Legislature, which is expected to take place sometime in September, as Paterson's last, best opportunity to save himself.
ALREADY,  in public situations, the governor has started to seem more like an extra than the state's top official.
Appearing in East Harlem at 1 in the afternoon on Aug. 17 to announce stimulus funding for affordable housing, Mr. Paterson chatted with some other attendees as they all awaited the arrival of Michael Bloomberg.
The mayor ran the podium once things started, as Mr. Paterson faded into a background row that included housing bureaucrats and City Councilwoman Melissa Mark-Viverito.
Mr. Bloomberg fielded most of the questions, joking after one of the bureaucrats answered a particularly technical inquiry that "I was going to ask the governor to do it but he and I have a mutual nonaggression pact."
After Mr. Paterson spoke—he joked that the mayor had stolen his cue cards—he was asked about the latest poll, which showed him weaker than ever in a hypothetical primary matchup against his undeclared opponent Andrew Cuomo, and whether that gave him "pause" in his political efforts.
"No, but where there is no pause is [in] the seemingly excessive printing of political polls," Paterson said. "If there were one or two, I might have actually thought about it, but because there are 50, I'm finding it curiously odd" that there is this "constant discussion of political polling going back 18 months before the previous election. So it makes me resolved, more resolved, to make sure that the public, not the pollsters, dictate the result of the next election."
LAST WEEK, while vacationing at a beach house in the Hamptons, Mr. Paterson made a round of calls to people he viewed as longtime friends and supporters to talk about plans to kick up a multipronged comeback.
According to the recipient of one of the calls from the governor, Mr. Paterson promised a "get tough and stay tough" approach to the Legislature as well as appeals to labor leaders and a public emphasis on fiscal restraint. The source said that the governor was friendly, relaxed and seemed very optimistic.
The reaction he got from would-be supporters, it seems, has been mixed, tending toward unhelpful.
"I've been asked by the governor's office to come aboard, but I said it's kind of early to make any decisions yet, and I'm going to wait," said Bill Montfort, the Democratic Party chair of Warren County, who said that he had received a call from a senior campaign official last month.
"I'm going to see what Paterson decides," Mr. Montfort said. "Things could happen. Maybe Obama will appoint him ambassador or something and he won't run."
"I think right now the governor needs to get a clearer message out there," said Dan McCoy, chairman of the Albany County Democratic Party. "He could potentially end up being a liability, but I think right now he needs to find his groove a little bit and get his message out there."
Len Lenihan, the party chair of Erie County, said, "I think there's general consensus that the governor certainly has until the end of the year. And my feeling is, there'll be a general assessment at that time."
Mr. Montfort agreed, grimly, with that timeline.
"If he doesn't have his ducks in a row by, at the latest, February, then he isn't going to make it to the convention," he said.
"I'm trying to be considerate of his position," he continued. "I don't want to cut the guy's legs out from under him. I'm pushing the date out as far as I can go before figuring out what I want to do with him."
The governor's aides, officially, are confident that he will be able to change his situation by then—starting with the upcoming special session.
"Governor Paterson has an important opportunity in the coming session, is very clear-minded about what he needs to do and will do it," said campaign spokesperson Tracy Sefl. "He is deeply sensitive to his responsibilities as governor, and is unwilling to focus too much on what political pundits focus on in the dog days of August. He starts each day recommitted to a mandate that focuses on peoples' lives, and well-beings, and futures—not on hypothetical matchups with hypothetical opponents."
"I think there is plenty of time," said Bill Lynch, a former adviser to Mr. Paterson who is close to Basil Paterson, the governor's father. "A month ago, Bill Thompson was dead in the water, not today."
Comparing the sitting governor to Bill Thompson, of course, may not be of much comfort to the governor's remaining supporters. But Mr. Lynch also said that the legislators who doubted that Mr. Paterson could regain the public's support were "like most politicians sticking their fingers in the wind." 
"I would not count him out at this time," Mr. Lynch said. "Not at all."
Can Mr. Paterson make a success of the coming, crucial special session, which his own campaign points to as a crucial chance to turn things around?
Democrats in the Legislature don't seem inclined to give him the benefit of the doubt.
"His relationship with the Legislature has certainly been somewhat negatively affected by everything that's happened between the budget process and the senate stalemate, so going forward he's in a very difficult position," State Senator Diane Savino said. "Any action he takes is going to be unwelcome by more than half of the body.
"Can he force the Legislature to do things that they're disinclined to do? He hasn't been able to do it."
—Additional reporting by Jason Horowitz and Azi Paybarah