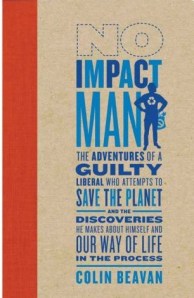 September will see the publication of three unusual-looking books: Farrar, Straus and Giroux's No Impact Man by Colin Beavan, Viking's Bicycle Diaries by former Talking Head David Byrne, and Graywolf's The Adderall Diaries by Stephen Elliott. What makes these books so unusual-looking is that, even though they're hardcovers, their cover art is not printed on dust jackets but instead stamped directly onto the boards that hug their pages. The result is a handsome, eye-catching look that reflects a heightened awareness on the part of publishers that books these days cannot be counted on to simply sell themselves.
"At a time when there are other forms that people can buy books in, it becomes more important than ever for the physical book to look really attractive," said Viking's Paul Slovak, comparing the embossed orange linen case-wrap that houses Bicycle Diaries to the front of an old composition notebook. "It goes back to this point that people make, that when you have an e-book you kind of just own the file."
Most of the publishers experimenting with jacketless hardcovers, including Viking, FSG, and Graywolf, are consciously taking their cues from the folks at McSweeney's, who have been putting out beautiful books designed in this style for years. For Eli Horowitz, the managing editor at McSweeney's, the method is a means of restoring some of the permanence and singularity to the book as object.
"To some extent," Mr. Horowitz said in an email, "it comes down to the question of what purpose the book is designed for: to be sold in a store, or to be a part of a reader's life. Even well-designed jackets often feel like advertisements, not actual parts of the object." He added: "Jackets carry all the design, but they feel disposable and often are disposable, the first part of a book to get torn or creased or trampled."
Alvaro Villanueva, a McSweeney's affiliate who designed Mr. Elliott's Adderall Diaries for Graywolf, echoed Mr. Horowitz's point, saying that the energy and resources that publishers expend on designing pretty jackets are in some sense wasted, because people are so used to putting them aside when they're actually reading hardcovers.
"The book jacket is just a throwaway," Mr. Villanueva said. "It gets wrinkled, or it's just uncomfortable and annoying, and you put it away because you're trying to save it but it gets messed up."
Worse, he added, the undesigned case-wraps that typically house jacketed hardcovers are generally dull and cheap-looking.
"We're used to the jacket covering something that's ugly," Mr. Villanueva said. "We expect that ugliness there."
As Mr. Horowitz put it: "In practice, this naked state is how a book lives the vast majority of its life, everything past the bookstore infancy: the jacket falls off, gets lost or destroyed, and then you're left with just the book itself."
Part of the reason for that blandness, intuitively, is the cost associated with doing anything fancier. "You'd be surprised how few options there are, unless you've got oodles of money to spend on color and texture for the paper that covers most of our books," said FSG designer Charlotte Strick, who created the design for Mr. Beavan's No Impact Man. "The manufacturers just don't have a huge range of these things."
The wager with jacketless books like the ones coming out this September is that the extra money spent will attract attention they might not get otherwise by enticing booksellers to display them prominently in their stores and causing readers to notice them when they're browsing.
"Being distinctive and unusual makes a book more of an object and ultimately more desirable," said Paul Buckley, the art director at Viking, in an email. "Unfortunately many publishing executives are understandably tied to very real world budget issues and are very hesitant to put a little extra budget into creating a package that will stand out from the crowd, which would ultimately help sales."
"There's something really exciting about seeing stamping directly on the boards," said Ms. Strick, of FSG. "I don't know if I even completely understand why that is. Maybe there's something permanent about it, that kind of makes it feel substantial and special and gives it a certain integrity."