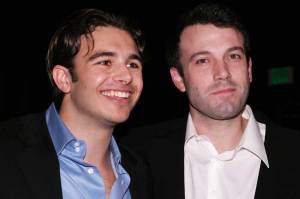 Not long ago, on a Wednesday night in July in Washington, D.C., a veteran NBC News executive producer named David Corvo stood onstage inside the U.S. Capitol visitors center and addressed a room full of several hundred bureaucrats, military staffers, journalists and District gadflies gathered to watch a preview of a new NBC series, called The Wanted, that promised to do the impossible: make the important but tedious concerns of the nation's capital sexy, watchable and cinematic.
The show had a daring premise: a hefty team of paramilitary journalists, outfitted with Kevlar vests and helicopters, would chase down alleged terrorists and war criminals, who at times were living openly overseas and in the U.S. See journalist, see journalist hunt, see journalist catch bad guy. That's action.
After Mr. Corvo introduced The Wanted, he ceded the spotlight to the young man who had brought it to life. Charlie Ebersol, trim and confident, was wearing a get-up rarely seen in the sartorial backwaters of the District—a sleek gray suit over black Chuck Taylor sneakers. He was 26 years old, the swaggering scion of the actress Susan Saint James and the TV executive Dick Ebersol—the head of NBC sports, one of the creators of Saturday Night Live and arguably the second most powerful boss at NBC Universal behind chief Jeff Zucker.
Mr. Ebersol began by thanking NBC News president Steve Capus. He was a visionary, said Mr. Ebersol, for supporting a project led by two guys with no experience developing prime-time television. "We were blessed to have NBC News come on board," said Mr. Ebersol.
The blessing was short-lived. Less than two months later, The Wanted has come and gone amid a flurry of largely negative reviews. The ambition behind the series might have been big, but the eventual ratings were tiny by prime-time NBC standards. The premiere on Monday, July 20, drew a scant 2.99 million viewers, fourth among the broadcast networks at 10 p.m., even finishing behind Spanish-language Univision. The second episode, on Monday, July 27, did even worse, attracting only 2.17 million viewers.
Mr. Ebersol's NBC debut was a flop.
The Truth About Charlie
The Wanted was only Mr. Ebersol's second project for television (he also produced a documentary film that was picked up by HBO—more on that shortly), but it's clear looking back even to his college years that Mr. Ebersol, with his gilded pedigree, has long been big on ideas and weak on execution.
In the spring of 2003, as a board member of the undergraduate student union at Notre Dame, Mr. Ebersol proposed a concert on campus, the proceeds of which would go to charities in Africa. He told classmates he planned on lining up U2 and Bruce Springsteen to play Notre Dame Stadium. "This is not pipe dream," Mr. Ebersol would later tell the campus newspaper. "One day, Notre Dame students will wake up on the morning of the biggest concert this country's schools have ever seen."
The concert never materialized (although Mr. Ebersol eventually did manage to get SNL-alum David Spade to perform on campus).
At the same time, Mr. Ebersol was struggling to realize his grand political goals in campus politics. Twice, he ran feverish campaigns to become the president of the student body. Both times, he lost.
In the fall of 2004, his family was struck with a sudden, public tragedy that briefly put him in the news. Shortly after takeoff, a private jet carrying Mr. Ebersol and members of his family crashed at a small, regional airport near their vacation home in Telluride, Colo. Mr. Ebersol's younger brother Teddy died in the crash, and he and his father both suffered serious injuries.
After the plane crash, according to press clippings from the time, Mr. Ebersol left Notre Dame, where he was still a few credits shy of graduating, and moved to Los Angeles to learn the family business.
In a profile published in the Los Angeles Times in the spring of 2007, Mr. Ebersol was living as a long-term house guest of Lilly Tartikoff, the widow of legendary NBC entertainment chief Brandon Tartikoff. Then 24 years old, he was already playing the part of the seasoned Hollywood veteran, helping Ms. Tartikoff's 12-year-old daughter pitch animated series to executives around town. Despite his inexperience, he began to pursue his birthright: flashy producer, potential NBC executive. No page duties required.
Out of Africa
Mr. Ebersol's first apparent success as a producer came in 2005 when he and his childhood friend Kip Kroeger completed a feature-length documentary called Ithuteng (Never Stop Learning). The documentary, which was directed by Charlie's teenage brother Willie, offered a moving portrait of an inspiring teacher named Jacqueline "Mama Jackie" Maarohanye, who ran a school in Soweto, South Africa, for underprivileged kids. The film was accepted in several festivals. HBO bought the rights. Oprah Winfrey gave a large donation to the school.
In the winter of 2005, however, a number of students from the school revealed to a South African news program that Ms. Maarohanye had coached them to make up false, horrific stories about their childhoods in order to get more money from donors. Eventually, the subject behind Mr. Ebersol's glowing documentary was formally charged with offenses, ranging from assault to kidnapping to arson.
Though his project was undermined, Mr. Ebersol's reputation as a producer escaped largely unscathed. The pair went on to make another documentary about a snowboarder.