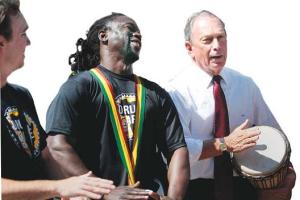 This week, Vanity Fair named Mayor Michael Bloomberg one of the world's best-dressed men. The judges apparently missed the mustard-colored shirt he wore to the Pakistan Day parade, or the powder-blue socks he wore to the Yankees game.
Mr. Bloomberg is trying to keep up the appearance of a mayoral candidate in a real race throughout one of the soggiest, least eventful and politically anticlimactic summers in memory. He's wearing goofy clothes, speaking Medford, Mass.–accented Spanish and Twittering his random musings.
And, in an extraordinary display of commitment to retail campaigning, according to his aides, he's eating pizza on a regular basis. 
"Eating pizza on the campaign trail is a time-honored New York tradition," said Howard Wolfson, the communications director of the Bloomberg campaign, deadpan. "And this mayor's working it."
While Mr. Bloomberg faces decidedly unworrying opposition from Comptroller Bill Thompson, who rarely sticks his head out of the basements of city Democratic clubs for fear of Mr. Bloomberg's aggressive campaign team whacking him, the mayor is trying very hard to go through the motions with a straight face.
Except when he can't.
Like before the Pakistan Day Parade on Aug. 2, when he posed with local Pakistani dignitaries in a shirt that he would usually not be caught dead in, and winked knowingly at the laughing reporters before heading out to march in the rain. Or on Aug. 7, when several participants of a city volunteer program ran up to him and asked him to pose for a picture.
"Picture! Picture!" Mr. Bloomberg said, with sarcastic theatricality, as he obliged.
Mr. Bloomberg's summer schedule, packed with politically advantageous visits to schools and housing projects and parade routes all around the city, presents him with a daily challenge of avoiding the zoned-out look of a man bored out of his mind.
Sometimes he succeeds. Other times, he doesn't.
ON AUG. 5, the morning he won recognition as half of one of the best-dressed couples in America, he was running late for an event at the Castle Hill houses in the Bronx. On site, before the mayor arrived, one veteran of the City Hall beat regaled younger reporters with stories of the reliably combative and colorful Rudy Giuliani.
Covering Mr. Bloomberg, the reporter said, was "deadly" in comparison. The younger reporters nodded.
The mayor, accompanied by his spokesman, Stu Loeser, showed up 45 minutes late, dressed sharply in a navy suit, a striped shirt with French collar and a blue-and-red spotted tie. He made his remarks about reducing the carbon footprint of the city's vast housing program, ceded the podium to his housing commissioner, John Rhea, and proceeded to look bored. 
As Mr. Rhea spoke ("As I was saying, we have a broad plan"), the mayor tilted his head to the right and looked off at a narrow row of windows in the gym's rafters. He compared notes with Councilwoman Annabelle Palma. When Bronx Borough President Ruben Diaz Jr. spoke about "farms in the sky" with inner-city grandmas gardening on rooftops, he stared off, again, into the distance. Angelo Esposito, the senior vice president for Services and Technology at the New York Power Authority, spoke about how "185,000 refrigerators were removed."  
Mr. Bloomberg came to life when a reporter asked for clarifications about the behavioral issues that led the inhabitants of the housing project to use up so much energy.
Margarita Lopez, an official at the housing authority and a friend of Mr. Bloomberg's who once declared him an "honorary lesbian," stepped forward and talked about the problem of 30-minute showers.
"That sounds nice," Mr. Bloomberg murmured from behind. Ms. Lopez tried to continue, but so did Mr. Bloomberg.
"Ed Koch once suggested taking a shower with a friend, even," said Mr. Bloomberg, as audience members started clapping and laughing. "That was during the time we had a drought and he thought it would save some water. What?"
"I imagine the mayor has it wrong," Ms. Lopez tried.
"I think that that's an easy question," the mayor said, referring back to the almost-forgotten query from the reporter.
"I'm not going to answer that because Mayor Bloomberg is always provoking me to follow," Ms. Lopez said.
WHILE MR. BLOOMBERG does his best to stay awake, his campaign has stirred from its announcement of slumber-inducing endorsements—Mayor Ed Koch; Middle Village Chamber of Commerce; Impacto Latin News; Peter Papanicolaou, president of the Cyprus Federation of America—to mount selective, bullying attacks on the mayor's likely opponent, Mr. Thompson.
Mr. Thompson's call on July 23 for a debate with Mr. Bloomberg went almost unnoticed, until the Bloomberg campaign's communications director, Howard Wolfson, later responded, "Mr. Thompson should first debate himself," and went on to list some apparently contradictory archival comments from the comptroller on education. 
After Mr. Thompson criticized the mayor's education record in a blog contribution on the Huffington Post on July 28, and called for the firing of the schools chancellor, Joel Klein, Mr. Wolfson unleashed an attack on Mr. Thompson's lackluster record when he ran the old Board of Education.
And the Bloomberg campaign provided the New York Post with video of a campaign event on July 29 in which Mr. Thompson was shown to have sat idly by as an attendee called City Council Speaker Christine Quinn a "whore" who could "kiss my ass." 
On Aug. 6, Mr. Wolfson responded to a critical audit from Mr. Thompson's office about the mayor's housing policy by attacking the comptroller's handling of city pension money.
The next day, Mr. Wolfson—who, like the mayor's other top campaign aides, draws a lavish salary from a campaign budget that is likely to reach $100 million—pitilessly mocked Mr. Thompson's failure to amass enough small donations to qualify for public matching funds, saying that it belied the comptroller's claim of grass-roots support.
Contracting out the nasty stuff to his campaign has allowed Mr. Bloomberg to spend most of his time in public acting nice to people.
On Aug. 7, the same day Mr. Wolfson eviscerated Mr. Thompson, scores of kids in green "Camp Goodwill" shirts and orange "NYC service" shirts waited for the mayor on a playground at the South Jamaica Houses in Queens, with posters for 98.7 Kiss FM ("The Best Variety of Old School and Today's R&B") hanging on the jungle gym.
Mr. Bloomberg, wearing khakis, a leather-braided belt, a blue oxford and powder-blue socks above his loafers, gave pointers to one young volunteer in an orange shirt.
An aide came over and asked Mr. Bloomberg to wear a pin in support of the program.
"Let's put a service pin on, absolutely," he said, as an aide affixed an orange pin that read "Use Your BLANK for good" to the mayor.
"O.K. Let's do it," Mr. Bloomberg said.
On the hot playground, which smelled of the black rubber padding under the jungle gym, Mr. Bloomberg stood at a podium and said, "Forty years ago, America celebrated the summer of love."
He continued, "This year we are going one step further with what we call the summer of service."
He talked about how volunteers "are weeding, and spreading mulch and compost," and then walked over to a patch of soil where he put on gardening gloves and dug a hole for a sedum plant.
"I had a vegetable garden" Mr. Bloomberg said as he turned over soil with two volunteers.
"Could you look up, sir, sir, could you look up?" asked one photographer. 
"He's planting, he can't look up," said an advance person, Jamie Lee.
"Sir, could you look up, look up at us," another photographer asked.  
"Put a little dirt underneath," said Mr. Bloomberg, his head resolutely down.  
"That's a nice plant," said Ms. Lopez, who also attended the event.
Rising from his planted sedum, he offered the photographers a halfhearted thumbs up and walked to his SUV and climbed in.
"Nice socks!" said Ms. Lee.
"I'm going to the game tonight!" Mr. Bloomberg explained.
"BUENAS TARDES. Hoy celebramos el orgullo de ser Dominicano," the mayor said.
Mr. Bloomberg was now speaking at a makeshift podium draped with a small Dominican flag on Aug. 9, before marching in the Dominican Day parade. Earlier that morning, he had been on Meet the Press. It had gone well.
He said what he had to say about the great Dominicans of New York, and then spoke about a fatal collision between a small plane and a helicopter two days before over the Hudson River.
A reporter asked him whether he thought Guillermo Linares, a former mayoral aide whose candidacy for a City Council seat ended because of a filing error, should be allowed to run.
"The rules are the rules," said Mr. Bloomberg, who pushed for a change in term-limits rules so that he could run for a third term. Mr. Loeser immediately stopped scrolling his BlackBerry and looked up apprehensively.
"Just goes to show you have to follow the rules," said Mr. Bloomberg. 
Then they started marching.
Mr. Loeser inserted yellow ear plugs. The mayor, escorted by the police, took his place of honor at the center of the parade's front line, behind the police marching band and ahead of signs hoisted above the crowd that read "Fuera la Corrupcion."
There was much pushing and pulling and shouting by the police.
A man ran over and handed Mr. Bloomberg a poster with his and other politicians' name on it.
"Sylvia!" he called over to Sylvia Alvarez, who handles Spanish press for his reelection campaign. She couldn't hear him amid the din and quickly walked ahead so as not to be trampled.
At 39th Street, Mr. Bloomberg's campaign videographer filmed people hollering, whistling, singing, picture-taking, Dominican-flag waving and I Heart D.R. T-shirt–wearing crowd as he briskly walked along the aluminum rails on the east side of Sixth Avenue. Mr. Bloomberg himself held a Dominican flag straight up over his head. The procession intermittently stopped to allow photographers to get pictures. On 46th Street, Mr. Bloomberg's right hand was suddenly hoisted high above his head by a man wearing white linen pants and shirt. The mayor looked shocked.
The procession continued again, past 49th Street, where the digital red crawl wrapping around the News Corporation building read "'Not survivable' says Bloomberg."
The parade went past Radio City Music Hall, where two campaign volunteers ran alongside the rails on the east and west sides of the avenue, distributing "Dominicans for Mike Bloomberg" signs, pulled from blue Mike Bloomberg NYC tote bags. An archipelago of sweaty marks started appearing on the front of Mr. Bloomberg's blue sport's shirt.
THE NEXT DAY, Mr. Bloomberg walked into the library of the Patrick Henry Preparatory School on East 103 Street to announce the end of social promotion in the fourth and sixth grades. He stopped at a desk by the door, upon which framed news clippings about his previous education announcements at the school were displayed. ("Mayor Gets School Reins," read the June 13, 2002, Daily News. "Mike Takes School Reins," read the June 13, 2002, New York Post.)
At a podium set up in front of colorful bookcases and hand-drawn posters of Charlotte's Web and Madeline and picture books about Mars and Saturn, he heralded his own administration's "impressive success." Off to the side, Mr. Loeser shook his head disapprovingly at a book he was perusing called Business Leaders Who Built Financial Empires. The book included Ted Turner but not Michael Bloomberg.
During a lengthy question-and-answer period, a television reporter asked Mr. Bloomberg about Mr. Thompson's accusations that homelessness had risen under the mayor's watch.
"I'm not here to engage in a debate," said Mr. Bloomberg,
That part of campaigning he had no use for.