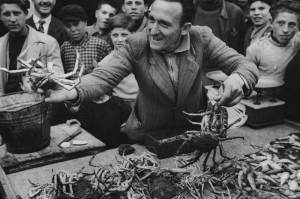 When it comes to educational reality TV, there's nothing better to watch in the summer than shows about burly commercial seafarers who risk their lives in some of the world's most treacherous waters, all for the greater good of putting seafood on your plate. Deadliest Catch is a good one, and its Discovery Channel-mate, Swords, a new series about New England's long-line fisherman, is pretty epic as well.
So now that we've put you in the mood for some blue claw crab and salmon and swordfish and other delicious creatures of the deep, check out the Michelin Guide's recommendations for New York City seafood eateries. You can view the full list here, and below, a few fish joints whose names we kind of love:
Aquagrill (Soho)
From the staggering selection of oysters at the raw bar to simple grilled fish, Jeremy and Jennifer Marshall's establishment aims to please all seafood lovers. The husband-and-wife team divides up the work here: Chef Jeremy watches over the kitchen while Jennifer oversees the dining room—decorated with lamps made of seashells. The chef treats his fresh supplies with due deference, sometimes adding subtle Asian accents to enhance the preparations. Clever combinations, like falafel-crusted salmon, are a hallmark of Aquagrill. Brunch is a real treat on weekends and lunch is always busy; but it's at dinner that the kitchen staff really struts their stuff. Service is smoothly choreographed, and an air of New York ambiance pervades the whole operation.
Brooklyn Fish Camp (Park Slope)
Since many Brooklynites work in Manhattan, the borough tends to be pretty sleepy during the day, and it can be hard to find a good place for lunch. Brooklyn Fish Camp has solved that problem for fish lovers in Park Slope. Although the décor is inspired by the simple fish shacks of the rural South, the menu is a seriously focused celebration of the sea. An offshoot of the original Mary's Fish Camp in the West Village, this casual eatery sails away with top-notch seafood and enthusiastic service. The menu changes daily, based on the market, but owner Mary Redding's famous lobster rolls, fried-fish sandwiches, fresh grilled fish and selection of steamed or fried shellfish are always available. Order a side of spicy Old Bay fries to share.
The Mermaid Inn (East Village)
When schedules won't permit a sojourn to the sandy shores of Cape Cod, the Mermaid Inn offers a polished take on those familiar sea-sprayed fish shacks. Dark wood furnishings, walls decorated with nautical maps and a quaint backyard dining area give the setting an undeniable charm. The concise menu begins with a first-rate raw bar and continues with deftly prepared entrées like grilled mahi mahi with orange chervil emulsion or pan-roasted cod with beets and horseradish cream. Their addictive crunchy, golden, Old Bay fries are an essential side dish. A complimentary demitasse of creamy pudding ends things sweetly. West Siders take note—the recently opened uptown location serves a similarly themed menu as well as weekend brunch.