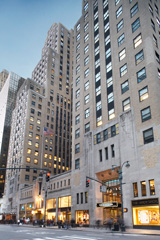 TIAA-CREF—the professors' insurance company—has provided $145 million in loans for the Graybar Building, SL Green's midtown trophy at 420 Lexington Avenue, atop Grand Central Station. It refinanced $100 million in loans and provided an additional $45 million, producing approximately $23 million in net cash proceeds.
SL Green acquired a leasehold for the 31-story, 1.5-million-square-foot, Class A building in 1999. It also took in several loans, two of which were quite hefty: $35 million from Deutsche Bank and another $35 million from Lehman Brothers. SL Green, led by CEO Marc Holliday, refurbished the tower to attract wealthier tenants, spending $84 million to upgrade the lobby, repair the façade, and add new storefronts.
Now Lehman's gone under, and the value of commercial real estate has, to say the least, dipped, clearing the way for more participation by lenders like TIAA. There's a certain irony in a firm predicated on the fairly pedestrian of retirement equities and college payment plans taking a financial stake where once a Wall Street investment bank pre-dating the Civil War was relied upon.
Cushman & Wakefield Sonnenblick Goldman arranged the deal between SL Green and TIAA-CREF. The brokerage declined to comment, and SL Green could not be reached for comment as of Wednesday afternoon.
Update 12:51 p.m. Thursday
According to a press release issued by SL Green, TIAA-CREF's loan—provided at a 7.5 percent fixed rate—matures in 2016 and has two one-year extension options. It allows SL Green to retire the former mortgage, which was due in November 2010 and carried a rate of 8.44 percent. (Whether this refers to the Deutsche Bank or Lehman mortgage—or both—is unclear.) The building is currently 96.7 percent occupied.
This apparently isn't TIAA-CREF's first venture into the New York real estate market. TIAA-CREF has invested equity in "several" office buildings in New York, said TIAA-CREF spokeswoman Abby Cohen on Thursday morning
bkavoussi@observer.com