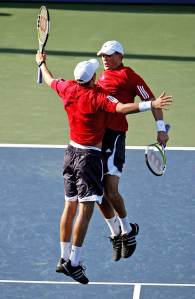 This week's New Yorker (dated Aug. 31) and the Aug. 30 Sunday New York Times Magazine both contain lengthy profiles of professional tennis twins Bob and Mike Bryan.
Sure, the pair has become one of the best men's doubles teams in the game's history, with an impressive 54 pro tournament titles. (The record for a men's doubles team, held by Aussies Mark Woodforde and Todd Woodbridge, is 61.) But haven't they been around for a while now? Their first Grand Slam win came back in 2003—and all those cute, silly (hey, they're twins!) TV segments aired eons ago.
Is it that respective editors David Remnick and Gerry Marzorati both, by coincidence, finally got around to recognizing the brothers' quirkiness? (The 31-year-old identical twins also share a home, a bank account and a car.) Did they decide that people are simply exhausted of reading about Roger Federer and Rafael Nadal and Andy Roddick? Or do the Bryans just have a really good flack?
Probably some combination of the three.
"What struck me about them was that they haven't been written about," said Burkhard Bilger, author of the New Yorker piece and a staff writer at the magazine. "The fact is, these guys are the best doubles team in the world and have been for a number of years, and will probably end up breaking the all-time record fairly soon, and no major profiles about them had been done at all. That plus the fact that they're twins seemed like a pretty compelling reason to do the story."
Mr. Bilger said he started working on his piece back in March, and knocked off the bulk of his reporting during the Sony Ericsson and French Opens in April and June. "It definitely took me by surprise," he said of the Times Magazine piece. "Five years of these guys being No. 1 and almost no coverage, and suddenly two big profiles come out at the same time."
The morning The New Yorker's story hit newsstands, The Times Magazine went ahead and published its story online almost a week ahead of the print edition—two days before the Wednesday publication date by which they've grown accustomed to putting previews of magazine stories online.
Mr. Marzorati and Eric Konigsberg, the author of the Times piece, did not return calls, but the Bryan brothers' happy publicist, Natalie Mikolich, said that Mr. Konigsberg started reporting in early July and spent time with the brothers later that month when they were competing in Los Angeles.
Ms. Mikolich said she didn't inform either publication of the other's feature because neither asked for exclusivity.
"I hope they're not upset!" she said.
Ms. Mikolich, public-relations director for the tennis division of Blue Entertainment Sports Television, which represents the Bryans, has been handling the brothers' publicity since November of 2008. She said the New Yorker and Times Magazine pieces were the most A-list press they've gotten to date, although they also scored recent spreads in Men's Journal and Men's Fitness after what she described as persistent pitching on her part. Determined to squeeze every last drop from the New York media, she brightly told Off the Record that the Bryan brothers are "in a band" and performing at the Arthur Ashe Kids Day, a U.S. Open charity event on Saturday, Aug. 29.