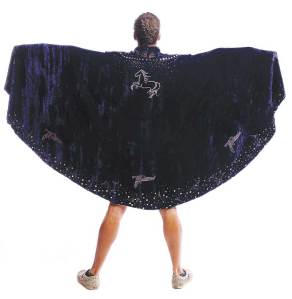 Puppetry of the Penis is an evening at the theater devoted to what its practitioners term "the ancient art of genital origami." You would more likely call it "two dudes making balloon-animal shapes with their members."
This entertainment initially arrived in New York in late September of 2001, when destruction was more on our minds than erection. Then starring its two creators, the shaggy Australians Simon Morley and David Friend, Puppetry nevertheless ran for 18 months Off Broadway at the John Houseman Theater. The 50-minute collection of tricks—the performers, with all the profundity they can muster, dub the maneuvers "installations"—has now spawned a Blue Man–like collection of international editions, and Messrs. Morley and Friend recently returned to town to launch a new production, at 45 Bleecker. The intention was for the two master puppeteers to perform while training their replacements, but they found themselves surprised: Among the auditioners were Christopher J. Cannon, 22, and Rich Binning, 23, two musical-theater graduates of the Point Park University who'd been rehearsing the installations for years.
"It was maybe a teen dream of mine," confessed Mr. Cannon, who first saw the show in Portland, Ore., where he grew up, at 17. It was the afternoon of the performers' day off, and the pair was seated in the lobby cafe at 45 Bleecker, both be-pants-ed. Mr. Cannon is the shorter of the two, wiry with spiky hair, and he'd come from a lunch shift waiting midtown tables. He was in white shirt, black pants, rep tie. Mr. Binning, bigger, broader and aw-shucksier, was in a polo shirt and plaid shorts; he sat with his legs spread wide, perhaps to give rest to the tool of his trade.
"I dragged my mom along with me, we saw the show, and it was hilarious," Mr. Cannon continued. "I bought the little handbook, and I thought to myself, I can do this. So I taught myself five tricks, the hamburger, the windsurfer, the baby bird, some others."
His family, apparently, was always very comfortable with nudity.
"I ended up showing my mom the tricks," he said. "'Check it out, I can do a hamburger!'" (The hamburger, it should be noted, is Puppetry's pièce de résistance; it comes late in the routine and, through a combination of plumping, pulling and 90-degree twist, turns the familiar apparatus into two buns sandwiching a patty.) A senior in high school, he displayed his new talents to his good friends, too.
But college is where we embrace our true identities, and Mr. Cannon arrived at Point Park, in Pittsburgh, determined to assert himself as a penis puppeteer.
"I used it as a way to meet the cool upperclassmen," he said. "I was a freshman, and I was invited to a party one night, and I was like, 'Guys, I can make things out of my weiner.'"
Mr. Binning, then a sophomore, was among the impressed elders. "I just thought it was hilarious," Mr. Binning said. "And I so I was like, 'Teach me how to do a hamburger."
Stars were born.
"At the next party, people would be like, 'Do the windsurfer,'" Mr. Binning said, "and we'd end up doing five or six tricks for people." Both men, despite their fondness for playing with their genitalia together, are heterosexual.
"We never really like worked on it," Mr. Cannon clarified. "It was just a fun thing to do when we were drinking."
Mr. Binning, who is recently married, disputed that somewhat.
"I remember being in my room at a party and saying, 'I need to work on this trick with you for a second,'" he said. "And you were like, 'You just wrap it, twist it and then hold it.'"
"It became our thing," Mr. Binning said. "We were known for it."
Mr. Binning graduated from Point Park last May and moved to New York in September. Mr. Cannon stayed in Pittsburgh to finish his senior year. In April, Puppetry of the Penis put out a casting call for new puppeteers. Mr. Cannon bought a plane ticket.
"I brought the book with me when I flew in," Mr. Cannon said. "We practiced: windsurfer, Eiffel Tower, hamburger, two others. We decided we'd go into the audition as a package deal; we wore matching Steelers jerseys. There are some tricks I'm good at, some he's good at."
A number require a foreskin, which Mr. Cannon has and Mr. Binning does not.
But Mr. Binning's fuller scrotum and thicker shaft benefit other installations.
Mr. Cannon returned to Pittsburgh for final exams and couldn't make the callbacks. They got the parts anyway, of course. Performances started last week.
"This first one was kind of intimidating," Mr. Cannon said.
Mr. Binning agreed.
"It was terrifying," he said. "What if we get up there and it's just not funny? That's 50 minutes of being naked and not funny in front of 300 people. Then we walked onstage, and we had them from the first moment, and that was awesome. Every show so far, we've exited the stage and we've come back and we're like, 'I love my job.' It's very liberating to stand onstage naked."
There are other advantages to putting yourself—all of yourself—on display.
"I was at Rudy's the other night, and a bunch of girls there were like, 'There's the penis guy! Oh my God! But where's Rich?'" Mr. Cannon said. "I said, 'Rich went home to his wife, but I'm here.'"
He smiled.
"It's definitely helped my sex life."
And there's also this: "I was the only person in my musical-theater class with a job leaving school," Mr. Cannon said. "I felt pretty good about that."