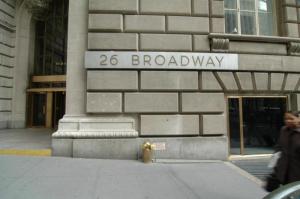 Poor Larry Silverstein. First the World Trade Center debacle. Now this.
The Juvenile Diabetes Research Foundation, which Silverstein Properties' Web site touts as a marquee tenant at the nonprofit-heavy Art Deco masterpiece of a building at 120 Wall Street, has a lease out with a competing landlord.
The foundation, which specializes in funding research to cure Type 1 Diabetes (as the foundation's name suggests, that's the kind that tends to afflict children), has a lease out for nearly 50,000 square feet at 26 Broadway, a mere seven blocks west of the nonprofit's current headquarters overlooking the East River.
Not that it's all Champagne and roses over at Mr. Silverstein's competitor's house. The Chetrit Group bought the pyramid-topped lovely at 26 Broadway, formerly the Standard Oil building, for $225 million in April 2007, or $375 a square foot, which at the time seemed reasonable. Fast-forward two years and one Great Recession. Now, Youngwoo & Associates is in contract to buy AIG's two nearby skyscrapers for about $100 a foot. That must be a bit of an ego-deflater.
But let's focus on the positive, shall we? Chetrit looks ready to sign the high-profile foundation, represented by Studley's Howard Nottingham and Adam Singer in D.C. Newmark Knight Frank's Howard Kesseler is representing the landlord. None of the aforementioned would comment for this story.
drubinstein@observer.com