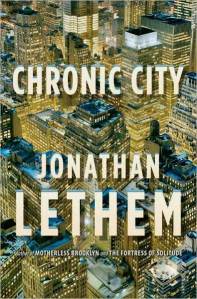 If the eerie aerial photograph of Manhattan that graces the cover of Jonathan Lethem's new novel Chronic City reminds you of something when Doubleday publishes it this October, do not second-guess yourself. It is indeed the same shot that was used on the cover of the first issue of Condé Nast's Portfolio when that magazine—now dead—premiered in April 2007.
The eye-catching photo, taken from the 86th-floor observation deck of the Empire State Building by Scott Peterman, shows a city that is churning and gleaming ominously. Every light in every office window appears to be on, as if every building in the frame is coursing with electricity. Mr. Peterman said the photo, titled Surge, was conceived specifically for the Portfolio cover as an homage to a similar shot taken during the Great Depression from the exact same spot on the observation deck, by Berenice Abbott.
The obvious question: Is it a bad omen that Mr. Lethem's new novel dons artwork that was commissioned for the inaugural issue of a magazine that imploded after just two years?
Nah, says Doubleday director of publicity Alison Rich. "We've heard nothing but excitement and enthusiasm for this book among booksellers and critics," she said in an email, "and we're tremendously excited for its publication in October."
There is something different about the image as it appears on the front of the Lethem book, and according to Mr. Peterman, that's no accident.
"The one that was on the Portfolio cover was sort of turned gold—it's got a Photoshop gold wash on it," said the photographer. "Everything was golden then."
As Portfolio's former editor in chief, Joanne Lipman, put it when asked to describe why Mr. Peterman's photo was chosen for the magazine's debut: "We knew we were in the midst of a bubble, and we knew we were in the middle of this new Gilded Age. Our photo was intended to be a commentary on the times. It was beautiful, but it was also supposed to be ironic."
The designer Rodrigo Corral, who worked on the Lethem jacket for Doubleday, said he was aware of the photo's origins. "When I saw this photograph of the skyscrapers I thought it was perfect for the book," he said in an email. "It creates the illusion, facade of golden Utopia." Though the photo was originally used to illustrate New York City's might as a business center, he said, it "now feels quite the opposite: a vulnerable city."
Ms. Rich confirmed in an email that Mr. Peterman's photo—for which the publishing house bought rights directly from the photographer—was altered in the course of the design process, using "shadowing and other special effects."