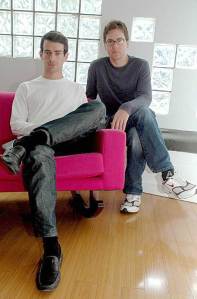 On the morning of Tuesday, Aug. 11, Twitter co-founder Jack Dorsey prompted a ripple of buzz online when he uploaded a grainy photo of himself and Mayor Michael Bloomberg tweeting from their smart phones at Gracie Mansion.
Mr. Bloomberg was updating his own Twitter account, normally maintained by his staffers, for the first time ever that day, an event his campaign had been hyping up. Mr. Dorsey's visit to New York happened to coincide with the occasion, so a meeting between the two of them was arranged.
But Mr. Dorsey, who lives in San Francisco, wasn't in town just to hobnob with the mayor. He had a busy week lined up—lots of meetings with tech CEOs, software engineers and venture capitalists, including Fred Wilson of Union Square Ventures, to talk about a new company he will likely start here in New York.
"I'm here to get a sense of the city and figure out if I wanna move this new company out here," said Mr. Dorsey, stubbly faced and dressed in a navy blue V-neck T-shirt when he sat down with the Transom last Thursday, Aug. 13, outside the Standard Hotel, where he was staying.
He declined to offer any details on the start-up, but said he'd be eyeing commercial digs anywhere from the Flatiron district, currently a hot spot for tech companies, down to Soho. He said he'd come to a decision within the next month.
Mr. Dorsey, 32, who attended N.Y.U. as an undergrad, also said he's personally looking to relocate to New York (probably the West Village), a move that would likely be seen as a vote of confidence for the city's digital community, since the entrepreneur is considered one of the tech world's brightest.
"One of my biggest questions is, with a city of this size, with as many amazing things as this city has to offer, how do you focus your day?" he said.
In the meantime, we asked Mr. Dorsey to name a politician who he thought was particularly Twitter-savvy.
"Cory Booker, the mayor of Newark," he said. "He's really taking this to the conversational level and doing some creative things."
And Mr. Bloomberg?
"I would love for him to update it personally more," he said, "but Twitter is something you have to get into at your own pace."
It does seem like Mr. Bloomberg's pace is rather slow. As of press time, he hadn't tweeted since the day of his meeting with Mr. Dorsey, although one of his aides recently posted an update on how to tell when we're hearing from the real @mikebloomberg: "Tweets from Mike use 'I' or signed '-mike' Otherwise tweet is by staff."
Jill Hazelbaker, a spokeswoman for Mr. Bloomberg's campaign, said the mayor would continue to tweet "occasionally."