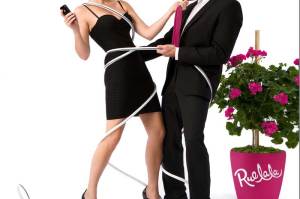 Susan Lyne, the chief executive of Gilt Groupe, a members-only, luxury designer sale Web site, noticed something curious about the 20-somethings who were clicking their afternoons away at gilt.com: They were torturing themselves, drooling over deeply discounted outfits and accessories from high-end brands during the 36-hour "flash sales," and watching as $3,175 ostrich feather jackets from Alessandro Dell'Acqua went for just $618, or as a silk, strapless Oscar de la Renta red-carpet-ready number that was slashed down to $2,398 disappeared. They weren't buying. They were window shopping, from the cubicle.
"What we discovered was that, one, even though we discount significantly on the brands we carry on Gilt [up to 70 percent], it's still expensive for them," Ms. Lyne explained. "A $200 or $150 dress is still a big purchase for them. They say, 'I love looking at the stuff but it doesn't really fit my lifestyle. I don't have a place to wear those clothes.'"
So on Wednesday, Aug. 12, Gilt Groupe is launching a new site: Gilt Fuse, another private sale destination geared toward 20- and 30-year-olds on a budget—the kind of gals who shop at J.Crew and Saks Fifth Avenue on the same day and maybe swing by the thrift store for a gently used vintage dress. It'll be the Barneys CO-OP of private fashion sale Web sites.
During Gilt Fuse's first couple of weeks, they'll offer frocks and stock from familiar brands including BCBG, Modern Amusement, Chelsea Dagger, Juicy Couture, Laundry, Guy Laroche and C&C, among "maybe less distributed but very cool brands," Ms. Lyne said.
Gilt is also planning on opening up members to an even larger luxury world. Ms. Lyne told The Observer that Gilt Groupe will launch "several more verticals in the fall," she said. "By October, we should have both home goods and a dedicated men's area up and fully operational." A travel site is also in consideration.
Ms. Lyne, the former president of ABC Entertainment, who developed TV shows such as Desperate Housewives and Grey's Anatomy, joined Gilt last year after leaving Martha Stewart Living Omnimedia as chief executive. (With her feathery, ash-blond hair, she looks a bit like her former boss.) Gilt already has one or two home sales a week, but they'd like to offer a wider range of products and nab those ladies who pore over shelter magazines or, say, Martha Stewart Living. "I'm a home junkie, so I can't wait," Ms. Lyne said.
Presumably, neither can Gilt's 1.3 million members—or their investment firms, General Atlantic and Matrix, which together recently raised more than $40 million for the company, Ms. Lyne confirmed. Gilt is expected to make $150 million by the end of the year and is valued at $400 million, according to The Business Insider (whose co-founder, Kevin Ryan, also co-founded Gilt Groupe, but the Observer confirmed the valuation by sources close to the deal).
Recently, Gilt quietly acquired a warehouse in Massachusetts to store new inventory, adding to their space in Red Hook, Brooklyn, Ms. Lyne said.
CURRENTLY, Gilt Groupe seems to be the most high profile of this increasingly competitive breed of eBay–meets–high-fashion sites. But for the past couple of years, sites like Ideeli, HauteLook.com, RueLaLa.com, EditorsCloset.com, BeyondtheRack.com and French pioneer Vente-Privee.com have also been gaining buzz in the fashion world for bringing the sample-sale model to the Web, and letting every woman from Portland to Paris get her hands on Anna Sui sunglasses and Christian Louboutin pumps at steep discounts—without having to fly to New York or L.A. for the blowout.
"I think that any kind of new business model that emerges that works—a lot of people jump into it," Ms. Lyne said. "I think that there will be a number of people who enter but probably not that many who succeed at it."
During the slumping economy, brands have been especially enamored with these sites—purging bags and heels and seasonal frocks piling up in storerooms. But as more users—and entrepreneurs—discover this new e-commerce model, Gilt and other sites will have to spar for loyal members and those precious brands, whose marketers will want to be careful not to unhinge an upscale image by unleashing all of their designs at discounted prices.
"When the economy just fell out from underneath us, that worked well for a lot of the companies," explained Adam Bernhard, chief executive of HauteLook.com, which he co-founded in December 2007. "But as the economy starts to shake out a little bit, brands will start to be concerned about what's happening with their image—the degradation and the reputation they have to hold. They're going to want more control."
Mr. Bernhard said HauteLook competes with other sites by offering a cultural immersion in each brand's "boutique." "They feel like they're walking into a Gucci sample sale, only it's online," he said. Each boutique has video, behind-the-scenes blog posts and background information on the brands, making the shopping experience more informative and personal.