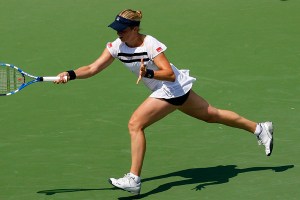 With no obvious narrative for women's tennis this year (the no. 1-player-has-never-won-a-major story can only carry you for so long), tennis writers have turned their early attention to the sudden and wonderful return of former U.S. Open champ Kim Clijsters.
At a press conference on Saturday, Clijsters, two years removed from the game, reflected on what is so desperately wrong with women's tennis: too much power and too little artistry.
"You need to work your way into a position where you can still win matches even if you make a lot more mistakes, or you're not feeling the ball as well–I think some of the girls don't really have that now," she said. "I remember Justine [Henin], she was one who could mix her game up even if she was not playing well. Someone like [Amelie] Mauresmo, even Venus and Serena, were hard hitters, they can still work their way through matches even when they're not playing their best tennis. I'm not saying everybody's like that, but I haven't seen a lot of girls change their game up a little bit."
In other words: Venus and Serena have and Justine Henin had shot selection, strategy, intelligence. They have and had something other than "really go for shots, and play aggressive tennis," she said.
Who's most responsible for this one-dimensional, boring game?

"A lot of Russian girls play similar," she said.