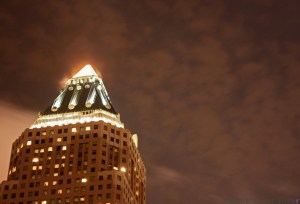 A mere five months after the New York Post reported that magazine giant Hachette Filipacchi might try to save on rent by leaving 1633 Broadway for more austere, smaller digs, Hachette has begun to narrow its options, according to a source familiar with the Elle publisher's office hunt.
Hachette has about 280,000 square feet at its current location, but is on the market for something less than 250,000.
Among the options it's considering: staying put at the Paramount Group's 1633 Broadway; relocating to Worldwide Plaza at 825 Eighth Avenue, the enormous and largely empty edifice recently bought by George Comfort & Sons; and moving to 777 Third Avenue, the William Kaufman Organization's 38-story rascacielos at the corner of 49th Street.
Newmark Knight Frank broker Fred Trump, who is representing the magazine publisher, would only say, "There are other buildings in the mix." Hachette did not respond to a request for comment by press time.
drubinstein@observer.com