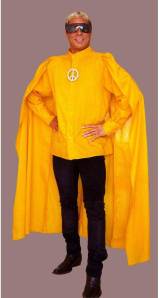 On Saturday, Aug. 22, the gates of the Castle in Water Mill were opened to select guests in celebration of the 40th anniversary of Woodstock. Ivan L. Wilzig—or Sir Ivan, as he's better known—built the 12,000-square-foot castle (which includes its own torture chamber) 12 years ago and has been throwing an annual party there ever since—"the most legendary parties in the Hamptons," Sir Ivan said. "This one is nearest and dearest to my heart because I've been planning this for 10 years."
He overlooked the party from a balcony, wearing a colorful cape that hung from the ends of his bleached-blond hair to the bottom of his neon suit.
The guests, many dressed in hippie gear, either sprawled on picnic blankets on the lawn, snuggling with the many oversize stuffed animals strewn there, or simply jumped around to music. A nude man stood on an island in the middle of the pool, his crotch covered by a plastic flower held by a bikini-clad dancer.
Would these people really want to go back to the 1960s, without digital cameras, cell phones or the Internet?
"I think this whole computer age is a little worrisome," said Sharon Bush, ex–sister-in-law to the former president. "Someone was telling me that there's computer addiction now." Another downside of the passing of the '60s? "I'm 40 years older."
Countess LuAnn de Lesseps, cast member of The Real Housewives of New York City, didn't feel so nostalgic, "I like being who I am," she said. "Although I'm glad we get to see it and look at it. I feel like I missed something, that's for sure."
Neither did Shail Upadhya, a former U.N. diplomat from Nepal who has gone into fashion design at a late stage in his life. "I like to see what's ahead," Mr. Upadhya said, his slight voice barely audible over the music. "I've already seen what's behind me. There's no point in going back and repeating." Indeed, he seemed perfectly content where he was. "I would describe this party as a fantasy land. Ninety-nine point nine percent of the people will never see a party like this in the world," he continued. "Life is not about suffering all the time. People need a release, and these are bad times. You might say, 'This party is over the top, how dare you,' but, you know, life is tough and we can't just be suffering for the rest of our lives."
Later Sir Ivan went onstage and performed a "rocktronica" cover of "Kumbaya," a single on his first full-length album. "It's to deal with African genocide, ethnic cleansing, genital mutilation and raping and pillaging going on with black-on-black tribes all over Africa," he said.
In an accompanying video, Sir Ivan, dressed as his superhero persona, Peaceman, stops two tribes from killing each other.
He told the Transom that a cover of John Lennon's "Imagine" had launched his career. "It came out a week before September 11th, because I knew when I recorded it in 2000 that the world was going downhill." His second single was a cover of Buffalo Springfield's "For What It's Worth." In the video for that one, his first, Peaceman single-handedly stopped a terrorist plot, prevented the police from arresting a graffiti artist and convinced opposing protestors to embrace.
"It's the eighth most viewed video on Yahoo video history," Sir Ivan said proudly. "Yes, I have over 10 million views." (The number is actually a still-respectable 3.6 million.)
"I expect to have over 20 million on the "Kumbaya" video," he said confidently.