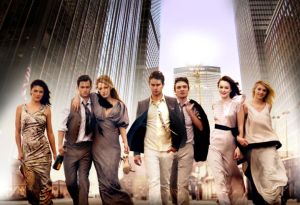 Don't be fooled by the increasing temperatures and out of control humidity: Summer is almost over. However, while Labor Day is less than three weeks away, there is a silver lining: We're that much closer to our favorite Upper Eastsiders from Gossip Girl returning from summer break! The second season hits DVD today, complete with a host of unnecessary special features (yes, we would like to watch the Chasing Dorota webisodes on our television set!), and that gives you plenty of time to watch all 25 episodes before the season three premiere on September 14. However, if you're too busy to watch each one, you'd probably do fine by checking out the three episodes below. Consider these recommendations your summer reading list, but with all those pesky words replaced by underage sex and drinking!
Episode 2: "Never Been Marcused"
Why you should watch: It wouldn't be Gossip Girl without Blair and Chuck pretending they don't crazylove each other while yet another excessive party is happening around them. In "Never Been Marcused," the gang returns from the Hamptons for a final summer soiree, and, wouldn't you know it: Blair and Chuck have yet another moment that looks like it could culminate in a kiss, but doesn't. Perfection!
WTF Moment: As the episode ends, Nate becomes an official man-whore. No, seriously: The older woman he's been sleeping with—hilariously known as the Duchess and played by Madchen Amick—gives him an envelope full of money after they have sex. The show is already off the rails and this is only episode two!
Episode 13: "O Brother Where Bart Thou?"
Why you should watch: Spoiler alert: Bart Bass dies! Since we last saw Blair and Chuck in "Never Been Marcused," they're still getting close, but coming up just short when it comes to expressing their love—this episode ends with Chuck leaving town (and Blair) in a shame spiral of depression and inadequacy following his father's death. Also, Serena and Dan break up for the seventh time and we find out Lily and Rufus had a secret baby!
WTF Moment: Hey Wallace Shawn, what on earth are you doing on Gossip Girl? As the mensch-y Cyrus Rose, the veteran actor had a great (and surprising) arc during season two, and in this episode he actually gets to marry WASP-goddess Eleanor Waldorf. More Wallace in season three, please!
Episode 25: "The Goodbye Gossip Girl"
Why you should watch: It's the season finale, that's why! That "The Goodbye Gossip Girl" also happens to be one of the better efforts of the entire series run is just an added bonus. Most of the loose ends are tied up—Blair and Chuck finally say they love each other!—but there are still some cliffhangers to keep everyone guessing until September 14: The secret baby that Lily and Rufus had is now a teenager going to NYU with Dan, and, Serena heads to Fiji (!!) to find her father.
WTF Moment: You would think that Serena going to Fiji would qualify, but we much prefer the part when Georgina Sparks (Michelle Trachtenberg) cheerfully announces that not only is she going to NYU, but she also wants to room with Blair. The possibilities for psychological warfare are endless. Here's hoping Ms. Trachtenberg's new series Mercy gets canceled quickly so she can become a regular this fall.