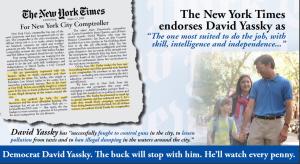 Here's a new mailer from David Yassky, touting his endorsement from the New York Times.
The August 23rd endorsement is reprinted in its entirety, with the notably good parts highlighted in yellow.
The part in which the Times lays out the shortcomings of his opponents, at the top of the second column, is not highlighted.