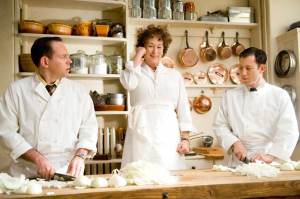 Julie & Julia
Running time 123 minutes
Written and directed by Nora Ephron
Starring Meryl Streep, Amy Adams, Stanley Tucci and Chris Messina
Nora Ephron loves to cook. Nothing fancy, like pheasant stuffed with pate and truffles in Champagne brandy, but you can order her meat loaf at the Monkey Bar. She also loves movies, and makes so many good ones that with a surfeit of junk polluting marquees everywhere, she's become something of a treasure. In the kitchen or in the movies, she's had her misses. At the stove, I imagine she's no stranger to a fallen soufflé or an over-salted stew, and on the screen, it takes work to forgive a pair of catastrophes like Michael and Mixed Nuts (even she couldn't make Adam Sandler funny). But when she's on her game, she is perfect. Just to prove it, I suggest—nay, insist—you drop everything and race to see Julie & Julia as fast as your feet, pedals, wheels and walkers can carry you. This movie is an emerald of enchantment in the current sewer of cinematic trap rock.
Julie & Julia is a journey into the heart of transcendental gastronomy based on a pair of books by two women who never met, but who both found their identities and unlocked their souls through the joy of cooking. In 1949 Julia Child, a bovine 6-foot-2 oddball from Pasadena, Calif., shaped like a side of mutton, with a voice that sounded like her tongue had been trussed with cotton twine for tying pork roasts, moved to Paris with her husband, Paul, a diplomat in the American Embassy. Bored and looking for something creative to do during her husband's assignment, she tried bridge and hat-designing before she signed up as the only woman in a class at the Cordon Bleu school. When she enrolled, she didn't know how to fry an egg or say "bonjour," but in the decade that followed, she devoted her life to every culinary detail of French cuisine, and in 1961, with co-authors Simone Beck and Louisette Bertholle, she published the first of two volumes of Mastering the Art of French Cooking, a revolutionary kitchen Bible that taught American housewives to sharpen their knives and tackle beef bourguignon like it was no more daunting than a tuna casserole. Beyond teaching and publishing, she became the first celebrity chef on television (even though she was the butt of many stand-up comic lampoons for sounding too much like a drag queen), famous for dropping food on the floor, scooping it up again and plopping it back into the bouillabaisse. In 2006, her memoir My Life in France was published; it's been reissued and repackaged for Nora Ephron's movie. Though 8 feet shorter than her subject and hardly built like linebacker for the Green Bay Packers, Meryl Streep channels Julia Child so magnificently that mere descriptions are rendered impossible.
Cut to 2002, when a mid-level cubicle worker named Julie Powell (played with delicate, undeterred passion by Amy Adams) moves into a cramped little flat above a pizza parlor in Queens and, like her mentor, escapes reality (a stressful job as an administrative assistant listening to the telephone calls of woeful victims of 9/11) in the kitchen. Her goal: to cook her way through the first volume of Mastering the Art of French Cooking, one recipe at a time, and write a blog about it. Her deadline: 524 recipes in 365 days, perfecting everything from A (spics of cold quail) to Z (zucchini in Mornay sauce). The results were published as Julie & Julia: 365 Days, 524 Recipes, 1 Tiny Apartment Kitchen in 2005. The movie catalogs the frustrations and triumphs of both women and their long-suffering, well-fed husbands (Stanley Tucci as Paul Child, and Chris Messina as Eric Powell, both splendid). The stories waffle back and forth, 50 years apart, complementing each other while requiring constant fashion shifts in the styles of shoes, wigs and saucepans. (No Cuisinarts for the original Julia; her first assignment as a Cordon Bleu student reduces Ms. Streep to red-eyed weeping over a mountain of chopped onions. Hilarious!) The imposing narrative trajectory of combining two separate memoirs makes it impossible for writer-director Ephron to avoid fragmentation, but it couldn't matter less. I was hypnotized from start to finish.
When Julia Child died in 2004, the two chefs had never met (informed of Julie's project, Julia was not only unimpressed, but curtly refused to include her on the guest list for her 90th birthday party), but the impact left on the younger woman by her mentor has been profound. It's an awfully good story, well researched, beautifully photographed, hugely entertaining, and oh, baby, the food! Every scene is enhanced by it and the people eating it. Chicken smothered in truffles and cream; gorgeous, towering chocolate layer cakes with fudge frosting that never slides sideways; lobsters swimming in saffron-colored hollandaise—all photographed like Cezannes. You're shown a raspberry Bavarian cream that looks like a brand-new Ralph Lauren designer paint. What you're not shown is how hard and time-consuming it is—or what a mess it makes. Ms. Powell's aspic does slide down the drain, and there are chicken livers all over the floor, but nobody is ever seen doing the dishes or blasting burned caramel off a copper saucepan.
Let's be honest. Despite the popularity of the Food Network and everybody's indispensable love affair with eating (to many with hearty appetites, a greater priority than sex), nobody is enough of a purist to really cook like this at home anymore. I don't know anyone who poaches an egg by dropping it into a pan of boiling water. As Michael Pollan pointed out so eloquently (and verbosely) in last week's New York Times Magazine, everything has changed. Who has the time, after eight hours at the office, to come home and de-bone six ducks in a reduced orange-pomegranate glaze for dinner guests? Who has the space for Julia's army of double boilers and earthenware crocks for rillettes of rabbit, the correct cutlery for cutting artichokes on the bias, scraping lemon zest, filleting trout or making paper ring covers for a bourbon apricot savarin? Most regrettably, who can boast the cholesterol levels to accommodate a pound of salted butter for every sautéed chicken liver? When was the last time you turned out flambéed apricot crepes with pear marmalade humming in Cointreau? If this describes you, then I'm coming for dinner.
Never mind. You will have a fabulous time drooling. The cast is a revelation. As Julie and Julia, Amy Adams and Meryl Streep, last seen together as nuns in Doubt, are perfect counterparts and sisters under the skin. They are as different as two women tending their stoves can be, but you still learn a lot about their similarities: Both worked in menial government jobs before they discovered the magic of a salad fork; both married wonderful, supportive husbands; both were lost and found themselves saved by food. Julia's eight years of globe-trotting while waiting for her masterpiece to be published and Julie's kitchen heroics in Queens are skillfully intercut. Myriad cooks substituted in the kitchen before each take, and the budget for every dish exceeded the entire cost of Who is Killing the Great Chefs of Europe? and Tom Jones combined. Still, it's worth the acid reflux. Julie and Julia is the best food flick since Babette's Feast. Meryl Streep is so versatile that nothing she does surprises me, but one is not exactly prepared to see her hand surgically attached to a wire whisk dripping with beaten egg whites. Diligent, observant and fastidious, she is amazing in the ways she channels Julia Child's big bones, impossible '60s hair, bulldog jaw and Cambridge lockjaw voice. I loved them both, but nobody ever tells you what they did with the leftovers.