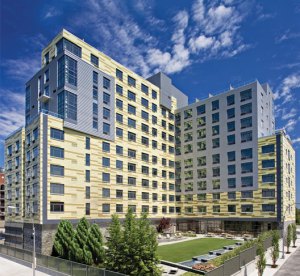 Both the Foundry and L Haus, two Long Island City condo developments marketed by Prudential Douglas Elliman, seemed to be presenting themselves as urban oases—nooks of green in Queens. They offered outdoor space aplenty, plant-oriented décor in their sales offices, enormous bathtubs, green literature and logos, and, in the case of L Haus, a lime green façade.
A poster for the nearby Hunters View condos took a more practical approach. "Commute like a rocket," it said, next to a stock photo of a business guy in a train station.
It takes 16 minutes to get from Hunters Point to Grand Central.
Brokers at Long Island City's glut of condo developments can tout their finishes, their amenities, their hesitantly gentrifying neighborhood. But convenience remains the most surprising—and compelling—factor in the area's favor. All hail the Vernon Boulevard 7 stop.
At 2-40 51st Street, the Foundry offered one- to three-bedroom homes in a variety of layouts, priced from $525,000 to $987,000. The duplexes and townhouses in particular offered ample space and light.
A broker said that weekend open houses had been chaotic since February or so—there had been 10 visitors Sunday, but other weeks saw as many as 30, and they tended to be serious prospective buyers rather than idle shoppers. Real estate, perhaps, is no longer a recreational pursuit.
Of the Foundry's 57 units, 50 percent have been sold, and almost as many are occupied. Most of the building's remaining stock is made up of the smaller units.
A few blocks away, at the inexplicably Germanic L Haus, brokers greeted a steady parade of visitors. The yet-unfinished building's location at 11-02 49th Avenue placed it at the entrance ramp tangle of the Pulaski Bridge, making it rather pedestrian-unfriendly. But there had been 10 visitors so far on Sunday, and as many as 20 some previous weekends. Ten percent of the building's units are in contract; one-bedrooms start at $385,000.
At both buildings, brokers were adamant that their clientele was "a mix." This seems like the go-to response when a neighborhood is still establishing itself, when one can't yet conjure a ready stereotype of young professionals or hipsters or stroller moms. Surveying the businesses along Vernon Boulevard, it was hard to tell what exactly the neighborhood's emergent personality might be. There were brunch options, but also an odd abundance of dentists.
Maybe, though, personality doesn't matter when Manhattan waits 16 minutes away.
mfischer@observer.com