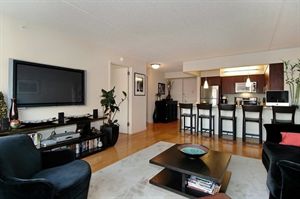 Pouring rain: bad for walking in the park, but apparently good for apartment hunting. Broker William Landhauser said that he had seen noticeably more people than usual at his Sunday open house, a Chelsea condo built by Douglaston Development just a few blocks from the High Line.
The condo, at 555 West 23rd Street, falls solidly within the business improvement district being considered to support the unexpectedly expensive park. Under the proposed tax, an owner of a 1,000-square-foot property would have to pay between $30 and $90 annually. Apartment N9F, a two-bedroom asking $1,195,000, was 1,080 square feet.
Mr. Landhauser, who lives in the building and has sold 15 of its units, was skeptical about the proposed tax. He said the general response had been irritation. "I don't need the park," he said, although he added that he was glad to be able to use it in promoting the building.
But the apartment had plenty to recommend it. It offered vast counter space, as well as a dose of schadenfreude: the relocating owner was selling at a loss, a fact that Mr. Landhauser said potential buyers liked to hear. His traffic had quadrupled since the most recent $100,000 price drop.
Large north-facing windows provided light in the bedrooms and living area, and a small lot-line window in the master bedroom afforded a view of the building next door—200 11th Avenue, where elevators will bring cars to residents' doorsteps; 555 West 23rd may not itself offer such amenities, but there's nothing wrong with vicarious thrills.
The lobby stretching between 555's two towers was open and glassy, like an expensive new student center or a particularly snazzy hospital—institutional and residential at the same time. A pastel banner announced a baby shower in the lounge upstairs, and in the glass-walled gym located beneath, residents exercised.
Mr. Landhauser said that of the 330 apartments in the building, only eight remained for sale. Despite the bleak weather and bleaker economy, he professed optimism—in the long run, at least. "People are going to be happy here," he said.
mfischer@observer.com