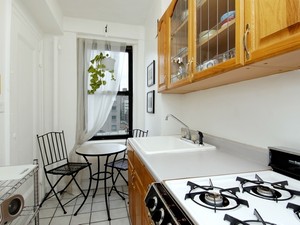 Studios are a place to store a person, self-storage in the most literal sense. That might not always be the most appealing real estate option, but today's falling prices have many renters contemplating inexpensive small spaces. This week, Your Open House explores Manhattan studios: Who's buying small and why?
Today an East Village co-op, 226 East 12th Street was built as housing for nursing students in 1927. True to its roots, it retains an eccentric dormitory feeling: The lobby has elaborate moldings gone slightly grubby, a sign instructing residents to remove their rollerblades, and a fish tank in the fireplace; the building has both tenants and owners.
The door to apartment 10D opened just across from the bathroom, leading the visitor perpendicularly into a narrow hallway. Inside, everything sees a little small and sideways; the bath faucet is located not at one end of the tub but along its side. At one end of the hallway, a tiny, appealing kitchen has just enough room for a two people to eat breakfast by the window. At the other is the main living space, which is respectably sized but filled with overlarge furniture: a high bed, a full-size couch, an L-shaped desk in one corner.
"I had a nurse come look at it. I said, 'You have to buy!'" said broker Marianne Ciccantelli. "He never did."
"He"—the pronoun may be a tip-off. The apartment's visitors had been mostly single women, many of them first-time buyers. Certainly, the décor suggests a certain young, eager and female demographic: The tenant, a Teach For America recruiter, had covered the place in French café posters and black-and-white pictures of Europe.
Ms. Ciccantelli said that the apartment has been on the market since May 15, and has received several offers over the summer. A couple were too low, though, and another prospective buyer was rejected by the co-op board because of her income—$48,000. The apartment is 350 square feet, and its price just dropped to $279,000 from $299,000.
Meanwhile, in midtown, a fourth-floor studio at 408 West 57th Street was asking $349,000. This was the 453-square-foot apartment's first open house, and The Observer was the first visitor of the afternoon.
"It's a small alcove studio—well, not small," said broker Endre Boksay, correcting himself. Indeed, the space isn't small. But it is very rectangular, "alcove" aside. (This particular piece of real estate speak referred to a small nook just outside the bathroom that could maybe house a desk.) The undifferentiated expanse of the main living space makes one keenly aware that it is just a big room. And the apartment's kitchen is a closet, essentially: windowless, with wine and Windex on the same shelf.
"This is Manhattan," Mr. Boksay said rather helplessly.
Still, the south-facing windows look out over backyards rather than 57th Street—an advantage, even if this is hardly midtown at its most bustling. The postwar co-op is directly across the street from a Lutheran church.
On the Upper West Side, a third studio offered an example of a more shrewdly managed space. Apartment 5H at 210 West 103rd Street takes advantage of archways, an elevated dining area and carefully concealed storage to make the most of its 550 square feet. A small wall sets off the sleeping area, which is cozy and dark brown, with stuffed bookshelves over the bed. The wall creating the "junior one-bedroom" is a relatively recent addition, but many of the apartment's other advantages are prewar holdovers.
Broker Bruce Robertson said he'd had just two visitors so far that afternoon. Sometimes there had been as many as five to six; consistently there were three to five. He described the prospective buyers as falling into two categories: "renters who can buy; and sellers who cannot buy"—that is, first-time buyers, but also people who already owned real estate and found themselves hamstrung by a slow market. This meant lots of young single women ("they're more fiscally sound and conservative") but also older people looking to move back to the city. One middle-aged woman had come close to making an offer, but ended up unable to unload her own home in Bensonhurst.
Asking $350,000, the apartment has been on the market two months. Mr. Robertson seemed sanguine—things look good for studio living. After all, he also works on The Observatory condos in East Harlem, where two-bedroom units are being converted to one-bedrooms and studios.
"That's what the demand is," he said.
mfischer@observer.com