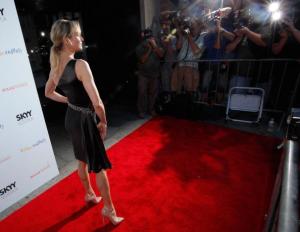 On Tuesday, August 19, the Paris Theater played host to the New York premiere of My One and Only, which stars Renee Zellweger as young George Hamilton's mother, traveling cross-country in her Cadillac convertible looking for a man to support her and play father to her two sons.
"I decided to dress up a little tonight," Mark Randall, 20, who plays Mr. Hamilton's elder brother, said with no trace of sarcasm in his voice. He was wearing skinny black G Star jeans with two large knee tears and five-year-old, worn-out Converse sneakers. What was the deal with those pants? "Funny story," Mr. Randall told the Transom. "I was playing late-night street badminton—hardcore badminton … in a park by my apartment in Toronto…I went all out and ended scrapping the ground, bruising my hip."
His co-star Logan Lerman, 17, strutted around in a gray suit, proclaiming, "I am a suit man." Actually: "I only have this one, really, I'll go get another one for the next one." He told about shopping for it. "I was having a panic attack, I was in some store, there were too many frigging people here, I'm freaking out and just took the suit off the rack … it happened to fit."
Perhaps the real Mr. Hamilton could provide his cinematic alter ego some advice about suit purchasing? The 70-year-old actor made his way down the red carpet in a pinstriped navy suit, faded, striped dress shirt and polka-dotted tie, with a white handkerchief in his front pocket.
"Yeah, it is old school—so am I!" he said, adding: "I'm wearing a suit that's about 25-years-old—it's almost her age." He pointed to his young, German female escort.
Ms. Zellweger finally appeared, batting away questions of her rumored coupling with Hangover star Bradley Cooper, in a black one-shouldered cocktail dress by Carolina Herrera, her fallback designer, worn with a jeweled belt and pink, pointed pumps."Those came out of my closet and thank God I ordered them and kept them in the box because what else is going to match?" she said of her shoes. Sporting a large diamond ring on her index finger, Ms. Zellweger turned to her handlers, baffled. "Oh, it's uh, it's uh, hang on, I'll tell you just now—Winston, no. It's not Harry Winston. Hang on, just one second. Hey, Nancy," she said, running down a list of jewelry designers with her cohorts only to settle on the response: "Clearly, I'm borrowing it."