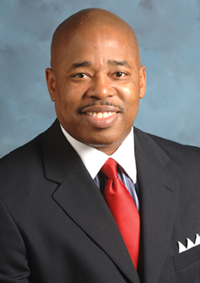 ALBANY—Yesterday, I asked State Senator Eric Adams if he would say he supports David Paterson for election as governor in 2010.
"What I could say is I don't support anyone else. Right now, the way I'm viewing it is that he's the governor, I'm 100 percent behind him right now because I believe that we need to be united as a state right now, so I'm 100 percent behind him, and once he makes a determination about what he's going to do next year then I can make that determination on what I'm going to do," Adams said. Paterson has consistently said publicly that he's running in 2010. I brought this to Adams' attention.
"I don't think he has reached a point yet where he has to say he is not going to run or he is going to run," he replied. "I don't think he's there yet, because we're in September. He needs to look at the polls, he needs to look at how well he can unify the state and he has to make that determination. So I'm not at the point yet where I believe he shouldn't run, and I've never taken that position, and I'm not at that point yet."
Adams and other Democrats in the State Senate traded barbs with Paterson toward the end of a month-long stalemate in that chamber–Adams accused Paterson of selling "woof-tickets."