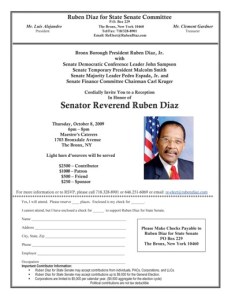 ALBANY—This fund-raising invitation State Senator Ruben Diaz Sr. just sent over illustrates something about the power structure of the State Senate, showing how the chamber's current Democratic leader(s?) have been in lock-step with the so-called four amigos since the end of a month-long stalemate.
Diaz Sr. lists his son–the newly elected Bronx borough president–at the top of his invitation, but then lists (in order) John Sampson, Malcolm Smith, Pedro Espada Jr. and Carl Kruger as the other headliners.
Diaz Sr. aligned with Kruger, Espada and Hiram Monserrate nearly a year ago to form the "four amigos" bloc that frustrated Smith's rise to the leadership, and his governance of the chamber. The ongoing tension between the amigo faction and Smith prompted Monserrate and Espada to flip to the Republican conference, before eventually returning to increased money and power.
The top dollar for Diaz Sr.'s fund-raiser is $2,500.