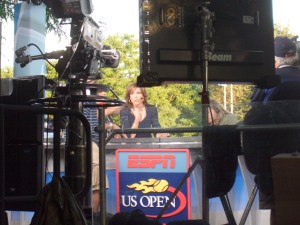 For the first time in decades, a new cable outlet is in town! Farewell USA and hello ESPN (well, ESPN2 technically). For the most part, we're enjoying what we're seeing. Here's a breakdown:
Things We Like:
Mary Carillo: We never understood why Carillo, the best voice for tennis on ESPN, NBC and CBS (not to mention HBO with Bryant Gumbel), wasn't used by USA. It's no wonder that four channels would want her. If anything, we wish she wouldn't be relegated at night to women's matches. But at least we get to her for day matches, and for two weeks now.
No Tracy Austin: She was probably the weakest link in USA's coverage. Her analysis was predictable, her interest in the matches was questionable. We're grateful ESPN stuck to its own team.
Sideline reports: USA's coverage was familiar and wonderful, but in a way, it's been useful to shake things up because ESPN has brought a certain intensity to the coverage. On Monday night, when Venus Williams mysteriously called a trainer early in the match, they turned to Pam Shriver who interviewed Richard Williams and revealed she had a knee problem. Later in the match, Shriver interviewed Billie Jean King who gave even more: Venus told her recently that she suffered from patellar tendinitis. (We don't know, either, but we're happy to learn.) USA's Michael Barkann spent his time interviewing Tony Bennett or David Dinkins. We prefer it ESPN's way. It's also worth mentioning that Mary Joe Fernandez and Pam Shriver, once unlistenable, have become improved light years.
Hannah Storm: We're not entirely sure how ESPN dug up Hannah Storm, but she looks great and she sounds even better. Nice move.
Using the Outdoor Studio: USA only occassionally touched the outdoor patio outside the south gate of Ashe, and ESPN doesn't seem to get enough of it–or the use of its camera near the South Plaza. It's an intimate touch, and it connects the grounds to the matches inside. Really nicely done.
Things We Could Do Without:
Chris Fowler in the broadcast booth: Though he seems to have actually read up on his tennis, he still lacks the soft touch of Ted Robinson that's critical to a good tennis broadcast. Someone remind him that this isn't college football.
Too Much Brad Gilbert: He needs to be treated the way Tony Siragusa is dealt with at FOX for NFL broadcasts. Keep him on the sidelines and go to him occasionally. He can be a useful voice at times, but to use him as the primary voice? Too many fist-pumps, too little insight.
Daren Cahill as on-court interviewer: He explains forehands and backhands. Don't let him do interviews. If you must experiment with him, try this at other smaller tournaments.
The Patrick McEnroe and John McEnroe Broadcast team: We like each of these guys separately. But each announcer has benefited from partners not named McEnroe: Cliff Drysdale complimented Patrick at ESPN, and Ted Robinson and Dick Enberg have looked over John at NBC and CBS, respectively. The novelty of two brothers in the booth wears thin pretty fast.