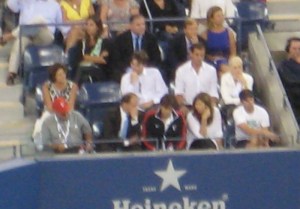 Roger Federer's number one fan didn't stay until the bitter end tonight.
Anna Wintour left tonight's men's singles final between Roger Federer and Juan Martin del Potro during the fourth set, a moment when Federer was leading two sets to one and had the match seemingly in hand. Federer wound up losing that fourth set, and ultimately the match, to del Potro. It was the first time Federer lost at the U.S. Open since 2003.
Earlier today, Vogue's spokesman, Patrick O'Connell, told us that Wintour would be attending Marc Jacobs' spring 2010 show, scheduled to begin at 8 p.m. tonight. Wintour left her seat in Federer's box–where she was seated next to Gavin Rossdale and Gwen Stefani–just before 7 p.m. Mr. O'Connell also said that Wintour would miss the Thakoon show today because of Federer's match. Though she did make it to part of Donna Karan's show earlier this afternoon, Wintour left that show early.
Wintour, as usual, has been spotted in Federer's box throughout the tournament this year, including during Federer's third-round victory over former U.S. Open champ Lleyton Hewitt. "Well, Lleyton is a very tough competitor, and he was getting every serve back," she told us after the match. "But we believed."
Maybe Roger could have used his good luck charm tonight!