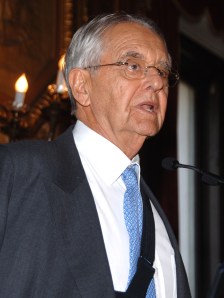 Would anyone else like to talk about banker bonuses?
In Albany, Andrew Cuomo subpoenaed the top brass at Bank of America, and, in Brussells, the European Union said it's going to discuss banker pay and bonuses at the G-20 next week.
On Wall Street, Blackstone founder Peter Peterson said bonuses are exorbitant and one of the biggest problems facing the country. And then, as if to prove the point, Obama's "executive pay czar" announced he's going to go public with the salaries of the top 25 earners at a whole host of firms, including Citigroup, Bank of America, A.I.G., and the car companies.
In the Wall Street Journal, David Weidner put a damper on some encouraging mergers and acquisitions by suggesting that they're all drummed up by money-hungry bankers.
And, down in Washington, the S.E.C. said it's putting together a new Division of Risk, Strategy, and Financial Innovation together to make sure there's no more banking funny business.