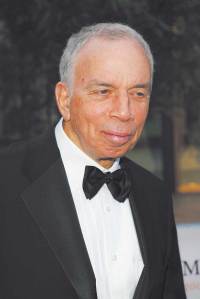 "It's like the first day of school here!" said one Condé Nast staffer, surveying the scene at 4 Times Square on Tuesday afternoon. "Today is quite the fashion show. The building is buzzing. I have to say, everyone looks amazing. I saw this one girl get off on the Teen Vogue floor who was wearing the most killer shoes and was accessorized to death."
And yet, there's something in the air this September …
"Everyone has spent the last few weeks and last month dreading the McKinsey thing," the source continued.
It's all about to come to a head.
The Observer has learned that McKinsey consultants are winding down their tour of Condé Nast, and will be ready to submit their final recommendations to chairman Si Newhouse and CEO Chuck Townsend in the coming weeks. One source said that recommendations could begin as early as Sept. 16, but another well-placed source said that the "totality of their recommendations" will be given at all once, and that they would come down in the next two to three weeks.
Through conversations with several staffers who have endured the McKinsey interviews, we've assembled a portrait of the typical consultant. First, they're quite young! Despite the early perception that they'd look like pasty lawyers wielding big-wheeled suitcases, they're apparently a plucky, charming bunch.
"They're kind of hot," said one source.
Crisp shirts, no jackets, freshly pressed pants—not unlike the fresh-faced boys who posed for the Harvard fashion shoot in the Styles pages of The Times this past weekend. They jot notes down on legal pads and in marble notebooks.
But everyone we've spoken to seems to know they've got a dark side.
"You could tell that they know that there is a lot of waste here," said another staffer who talked to the McKinsey minions. "The questions they asked were all based on duplications of effort. Things like, 'Do people really need that?' 'What if you didn't do XYZ?'"
They've been focused on job duplications, consolidations, places where corners can be cut to save a few bucks.
McKinsey consultants also seem to have spent the majority of their time with the two magazines they started with: Traveler and Vogue.
Both titles are considered emblematic of the typical Condé Nast magazine. There's Traveler, the midsize book that's relatively cost-conscious, and has a sizable bottom line. Vogue is the bigger magazine that brings in bigger bucks, but also has a more extensive expense sheet. Several well-placed sources assured us that even though McKinsey spent the most time with them, it does not mean that they will incur the McKinsey wrath any more than any other magazine.
(We asked Anna Wintour at the U.S. Open on Saturday about how the McKinsey process was going. She said, "Everything is great! O.K., I'm off!" before vanishing into a tunnel).
Either way, November and December issues are closing, and editors and publishers need their budget targets to start seriously planning for 2010.
And what will next year look like?
Condé Nast execs say it's premature to speculate what will happen, and no one knows—not even Si Newhouse—what the final recommendations will be (CEO Chuck Townsend would not comment for this story).
There have been, however, conversations and presentations between Condé Nast execs and the McKinsey folks all along. "There will be few surprises," said one source.
Within the building, one buzz term that keeps popping up is "frequency reductions." The epicurean titles, Gourmet and Bon Appetit, are most commonly mentioned as candidates for reduced publishing schedules. There is also the possibility that the two staffs could be streamlined.
Another magazine that is being closely looked at is Details, which sources said is the epitome of "a duplication of effort," thanks to GQ.
Budget cuts are also expected, and could be considerably higher than both the 5 percent cut from last fall, and the 10 percent cut from the spring. Two insiders said they've heard about budget cuts in the 20 to 25 percent range, while a high-ranking source said that it would be unlikely for the cuts to be applied across the board to each title (some magazines will need to hit higher percentages, other smaller).
When McKinsey drops by publishing houses, consultants target lavish photo shoots.
"There are little ways of cutting," said one staffer, who drank a bit of the McKinsey Kool-Aid. "You don't need to send an entire posse to Joshua Tree for a shot in the desert! Who cares! If the photographer is good, and the clothes are good, the models are good, it's fine—you can shoot downtown."
It's the new way of life.
As Mr. Townsend told us a few weeks ago in an interview, "For the last 15 years we've been migrating towards a much, much more business orientation than we have been. Year after year after year, story after story, has been focusing on the fact that we have some definitely fascinating cultural attributes, but I don't think anybody in their wildest imagination—and I should say me, that I have not—has thought that we have not been migrating this towards a real business. So am I doing anything now that isn't in keeping with that? Absolutely not."
Welcome back, everyone.
jkoblin@observer.com