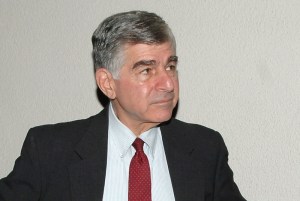 The final day of Michael Dukakis' final—and most improbable, unconventional and just plain bizarre—campaign for political office began on a bad note Wednesday morning.
Influential Democrats in Washington, reacting to The Boston Globe's endorsement of Dukakis for an interim Senate appointment a day earlier, had fought back by telling The New York Times that the 75-year-old former governor "was out of the running and would not be named" by Governor Deval Patrick to replace Ted Kennedy, as the paper reported it.
Instead, The Times and other national outlets suggested that Patrick was likely to settle on Paul G. Kirk, a close Kennedy family friend, former D.N.C. chairman and longtime Washington insider to hold the seat until next January's special election.
This basic tension has come to define the non-campaign campaign that was kicked off by the State Legislature's readiness to abide by Kennedy's dying wish that the state's succession laws be amended to allow for an interim senator—who could then provide the critical 60th vote for what Kennedy called the cause of his life, health care reform.
On the one hand, Congressional Democrats fear that Dukakis would be "too independent" as a senator and that the brutal Republican caricature of him from his 1988 White House campaign would haunt their health care efforts this fall.
On the other, countless Democrats back in Massachusetts still revere their onetime governor for his rectitude, his uncommon humility and his staunch refusal in a two-decade political retirement to cash in on his stature and connections. No one, they are adamant, has earned the honor of a four-month Senate appointment more than Michael Dukakis.
"He ran for president 21 years ago," noted Warren Tolman, a former state senator who ran for governor in 2002. "He's 75 years old. There has never been a question about his integrity or his honor. And he's been elected three times—he must have done something right."
Patrick, it is assumed, will make his formal announcement on Thursday. The word among Democrats in Massachusetts on Wednesday afternoon was that the governor would inform the state's Congressional delegation of his pick late that night. As you'd expect, he's been tight-lipped on the subject; perhaps more surprisingly, so have those around him. There have been few leaks about where he might be leaning—until Wednesday.
The Times' story was followed quickly by news that news Kennedy's widow and two sons were leaning on Patrick to choose Kirk. The stampede, it seemed, was on. Even some Dukakis admirers admitted that their man seemed destined to come up short.
But by the end of the day, Democrats in the state were suggesting that a backlash against Washington's intervention—and against the perceived heavy-handedness of the Kennedy family—was taking hold and that Dukakis might suddenly be back in the mix.
The resentment is easy to understand. Kirk, 71, is the consummate backroom player. He served on Kennedy's Senate staff in the 1970s and went on to chair the Democratic National Committee—after besting Nancy Pelosi in an ugly campaign—from 1985 to 1989.
He briefly toyed with running for governor of Massachusetts in 1990 but passed. He has never been elected to public office, his name is unknown to virtually everyone in the state, and his most enthusiastic backers—outside of some Kennedy family members—live and work in Washington.
Dukakis, on the other hand, has put his name before the state's voters many times—for lieutenant governor in 1970, governor in 1974, 1978, 1982 and 1986, and for president of the United States in 1988. Three of those races he won.
But the real contrast lies in the life each man built after leaving day-to-day politics. Kirk took a very conventional route, launching a consulting firm and signing on to several corporate boards. In other words, he cashed in.
Dukakis didn't. He left the State House in January 1991 at the age of 57 and went to work as a college professor. Every day, he gets up early and walks two miles from his home on Perry Street to Northeastern University's Meserve Hall, where he occupies a tiny office at the end of a hallway in the political science department. He answers his own phone and leaves his door open for students with questions about internships and add-drop forms. He is a real teacher. He sits on no corporate boards and does no lobbying or consulting.
In the late afternoon on Wednesday, The Globe posted on its Web site a fresh column from the venerable Joan Vennochi, who bluntly labeled the push for Kirk "typical backroom politics. And, it's being done with typically sharp Kennedy elbows."
The question, as the sun set, was whether the pushback was resonating at all with Patrick.
Those who know him believe that, in a perfect world, the governor would choose Dukakis, who—along with his wife, Kitty—was with him from the early days of his 2006 gubernatorial campaign, when the rest of the Democratic establishment was dismissing Patrick as a quixotic afterthought. Kirk and the Kennedys were nowhere to be found back then.
And since Patrick took office, Dukakis has played an informal—and very low-key—role advising Patrick, on issues close to Dukakis' heart (like transportation) and on the vicissitudes of the job.
But Patrick's personal fondness for Dukakis is complicated by his weak political standing. He won in a landslide in '06, but never really recovered from a series of early stumbles. Now, with the economy battered and voter anxiety rising, he is endangered as he prepares to seek reelection next year. Already, Republicans have found a strong candidate—the likable Charlie Baker, an old Bill Weld hand—and early polls show a dead heat.
The climate reminds many of 1990, when a brutal economy fed anti-incumbent fervor and spawned the best Republican year in Massachusetts in decades. Dukakis, of course, was the lame-duck governor back in '90, forced by the worst poll numbers of his career to swear off seeking another term. Patrick, many believe, has grown sensitive to comparisons between 2010 and 1990—so why, some ask, would he want to link himself so publicly to a man who reminds many voters of that annus horribilis?
Plus, Republicans—in Massachusetts and Washington—are licking their chops at the prospect of one of their all-time favorite punching bags returning to the public stage. Sure, it's been a long time since Dukakis was in office, and the attacks might fall flat all these years later; but does Patrick, with his weak numbers, really want to take that chance?
It's enough to leave Patrick, who endorsed the law change that allowed him to make this appointment, without an obvious choice.
"This is an impossible situation for him," said Michael Goldman, a longtime Democratic consultant. "There's a lot of support for Michael. But there's also a lot of support for Kirk."
For his part, Dukakis has said barely a word about the seat. But there's no doubt he wants it. More than 21 years ago, in the wee hours of November 8, 1988, he wrapped up his presidential campaign with a rally in the bitter cold in Des Moines, then got some rest and prepared to learn his fate from the voters. There were no speeches for Dukakis to make last night: just lots of waiting for a phone call from the governor.