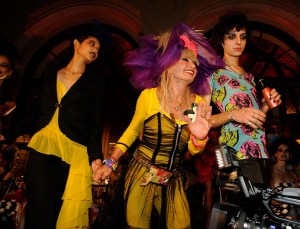 At the entrance to the Plaza Hotel last night, two girls—definitely models—stood guard wearing black and gold poofy skirts, t-shirts that said "Betsey's One Night Stand," and doorman hats.
"I'm just the bellhop," one of them shrugged as someone chose to forego the rapidly forming line outside.
Betsey Johnson, as expected, threw herself a party last night instead of just a regular runway show. The models stood on a stage in strapless dresses and rainbow shirts, drinking Champagne straight from the bottle and passing around a joint.
Bad models.
Norwegian rock singer Ida Maria played super-loud on a second stage while the models, getting increasingly less lucid, shimmied and shook, some awkwardly, others kind of like strippers.
"Find a cure for my life," Ms. Maria sang, the distortion from her guitar blaring above all other noise in the Plaza Hotel. With her black jumpsuit and hair gelled straight up to the sky, she looked like she was in Eraserhead.
"This is the only show I would play. Betsey Johnson is fabulous," Ms. Maria said. "She's so rock and roll!"
Ms. Johnson came out howling with laughter and stormed the stage wearing a yellow dress and black mesh corset, falling on top of her models.
The crowd was also sipping Champagne–mini-botles, through pink straws.
Ms. Johnson rushed the other stage where the band was playing and took the microphone. She didn't say much. Just "Thank you, thank you," and ended with a loud "yay!"
"Any questions?" Ms. Johnson asked the crowd.
Even though it seemed to take a backseat to this carnival mess of a fashion show, the collection was actually really impressive. Ms. Johnson's designs, which included lingerie-inspired party dresses, had their usual general feeling of costume-lke, overexaggerated absurdity.