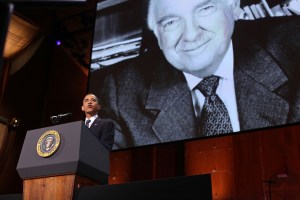 Bill Clinton stood on stage at Avery Fisher Hall in Manhattan's Lincoln Center and gazed out over the expansive auditorium. Not too long ago, Mr. Clinton told the audience, Walter Cronkite had extended a great act of kindness to his family. It was the summer of 1998. The Monica Lewinsky scandal was at a fever pitch. Mr. Clinton and his family were on vacation in Martha's Vineyard, hiding from the press and feeling like pariahs. Things were rough. But then, out of the blue, Cronkite called.
Mr. Clinton leaned forward, basking in the bittersweet memory. Cronkite, Mr. Clinton explained, proceeded to invite him and Hillary and Chelsea for a day of sailing out on the open seas. "He said, 'Somebody might take a picture of it, but so what?'" Mr. Clinton recalled. "I'll never forget that."
He paused. "At the time, I could have done with a picture with Walter Cronkite."
The crowd erupted in laughter at the thought of the most trusted man in America lending some contact credibility to the hounded president. Sometimes in life we could all use a little bit of borrowed trust. Trust by association.
It was the morning of Wednesday, September 9, and hundreds of politicians, journalists, and national power brokers had packed into the opulent hall at Lincoln Center for one last memorial service celebrating the life of the late Walter Cronkite. The room was full of TV news stars and the bosses who attend to them: Barbara Walters, Sean McManus, Morley Safer, Les Moonves, Tom Brokaw, Sir Howard Stringer, Dan Rather, Bob Schieffer, Charlie Rose, Diane Sawyer, Katie Couric, David Westin, Brian Williams, Charles Gibson, Steve Capus, Jon Klein, Jeff Fager and on and on.
Roughly six weeks earlier, a subset of the same crowd had gathered at St. Bartholomew's Church, on Park Avenue between 50th and 51st streets, for an Episcopal service, laying Cronkite to rest. But if there ever any doubt about who throws a more entertaining memorial service, TV producers or church professionals, Wednesday's mesmerizing event quelled it.
Over the course of several hours, the crowd was treated to a thrill ride of soulful music and rollicking remembrances that were at once sad, funny, complex, uplifting, and loving. By the end, even strangers would leave the room feeling they knew Walter Cronkite the journalist and Walter Cronkite the man.
Along the way, astronaut Buzz Aldrin explained what it was like to accidentally run into Cronkite on a small Greek island. Katie Couric told stories about Cronkite firing his canon at his house on Martha's Vineyard. Jimmy Buffett explained what it was like to solicit sartorial advice from Cronkite on behalf of Ed Bradley. Tom Brokaw elaborated on Cronkite's love for New York City, and his penchant for eating breakfast at the Copacabana.
President Barack Obama, just hours before his health care speech to the nation, materialized onstage and delivered a sermon about what Cronkite could teach us about the way forward for the troubled news business. Mickey Hart, of the Grateful Dead, played drums. Wynton Marsalis led a marching band through the audience.
Bob Schieffer told an amazing yarn, involving Dick Cheney, President Gerald Ford, Barbara Walters, Cronkite, and a flu shot. By the end, Mr. Schieffer had the whole room in stitches.
Six weeks earlier, Andy Rooney, whose friendship with Cronkite dates back to World War II, had been overwhelmed with emotion when trying to speak publicly about Cronkite. This time, producers delivered Mr. Rooney's thoughts in a pre-taped video package. Therein, Mr. Rooney got great mileage with a riff about Cronkite's post-retirement career, accepting award after award after award after award. He wore out three tuxedos, said Mr. Rooney, just picking up the damn things. A classic photo montage showed Cronkite shaking hands and holding various funny-looking ceremonial plaques, stuffed birds, and trophies.
Several of the day's speakers said that Cronkite would have loved the ceremony. The sentiment rang true.
Amid all the amazing yarns about Walter at the anchor's desk, Walter on his sailboat, Walter during World War II, Walter at the bar enjoying a cocktail, came the occasional moment of genuine melancholy. The sudden sadness of heartfelt loss.
At one point, Nick Clooney—friend of Walter, father of famous actor George Clooney—told about the last time he had a dinner in public with Cronkite. This was towards the end. Cronkite was in poor health. Mr. Clooney wasn't sure his pal would make it. But, sure enough, the anchorman eventually shuffled in. It was an early dinner. The restaurant was empty. But as they ate and drank and told stories, the room gradually filled up. At the end of dinner, Cronkite stood up. And for the first time, the other patrons in the room realized with whom they were eating dinner.
Slowly, Cronkite made his way to the door. Mr. Clooney followed. As Cronkite passed his way through the dining hall, one by one, every man, woman and child, without saying a word, rose to their feet in silent salute. "Because that's what you do," said Mr. Clooney, softly, "when a gentleman is leaving the room."