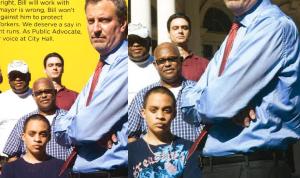 Here are images from two different Bill de Blasio fliers, featuring the same photograph of a young man whose blue shirt seems to have been photoshopped.
In one photograph,the young man is wearing a gold necklace, a shirt with some design and lettering that's not entirely legible.
In the second image, the same photograph was used, but the young man's shirt appears to be solid blue. And the gold necklace that was around his neck has also vanished.
"This was purely a stylistic choice," de Blasio spokesman Matt Wing said.
Earlier, de Blasio photoshopped out of his mailer a machine gun pendant his daughter was wearing.
You can see the two de Blasio mailers here and here.