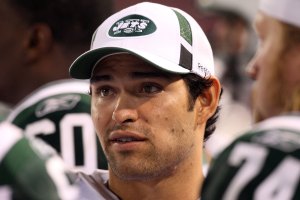 After a solid win over the venerable New England Patriots on Sunday, the New York Jets cracked the top 10 in the ESPN and Sports Illustrated power rankings this week, but as Felix Gillette points out, they didn't crack the top 10 in this week's television ratings.
The rivalry game between the Giants and Cowboys–a Sunday night tilt in the Cowboys' new, much-hyped $1.2 billion dollars stadium–predictably finished first.
But the Bills? Twice?
Buffalo comes in 5th and 9th. Granted, one was a Monday night game (against the same Patriots team that didn't get the Jets on the map), but the other was an afternoon affair against lowly Tampa Bay.
A Jets apologist seated behind me says it's only because Jets-Pats was a 1 p.m. game. I'm skeptical. Here's the list:
(1) WNBC-4….NFL: Giants vs. Cowboys….1,892,000

(2) WNBC-4….NBC Pre-Game Giants vs. Cowboys….1,422,000

(3) WCBS-2….Emmy Awards….1,219,000

(4) WNBC-4….Jay Leno Show (Mon)….1,002,000

(5) WCBS-2….NFL: Bills vs. Buccaneers….976,000

(6) WCBS-2….60 Minutes….964,000

(7) WNBC-4….America's Got Talent (Wed)….931,000

(8)WNBC-4….Jay Leno Show (Wed)

(9) ESPN….NFL: Bills vs. Patriots….602,000

(10) WCBS-2….NCIS….591,000