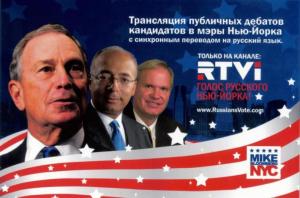 The mainstream press may be obliged to cover the mayor's race as a competitive affair, but RTVI, a Russian-language television station, is making no bones about the way they see it playing out.
The station sent out this flier, which, according to a Russian-speaking friend, is advertising an upcoming mayoral debate that will be translated or subtitled into Russian.
The web site the station created, called RussiansVote.com, features an image of Bloomberg in its banner and basically looks like a Bloomberg portal.
The translation of the site is here.
On the site, according to a Google translation, they offer a "a unique method of communication with Michael Bloomberg and his administration. By pressing the button «Send your question Bloomberg» and filling out the form, your question will be redirected to the press service of the mayor of the city. Among the issues will be selected by the most acute and urgent. Answers will be published after October 5, 2009."