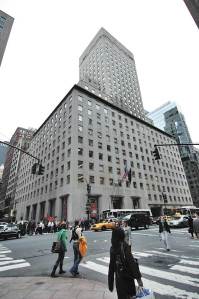 Diageo, the London-based maker of all spirits Smirnoff, Johnnie Walker, Guinness, Baileys, Cuervo, Tanqueray, J&B and Captain Morgan—and a firm that has human nature's self-medicating tendencies to thank for its ability to weather the recession with relative aplomb—is scouring the Manhattan office market for new digs.
(For what it's worth: According to the firm's Web site, "The word Diageo comes from the Latin for day (dia) and the Greek for world (geo). We take this to mean every day, everywhere, people celebrate with our brands.")
Diageo's real estate consultant, the Tampa-based CLW Real Estate, is working with Newmark Knight Frank principal and executive vice president Scott Klau to find about 50,000 square feet of Manhattan office space. The firm's sublease from Time Inc. for similarly sized offices at 530 Fifth Avenue expires in August 2010.
Diageo signed its existing five-year sublease in order to give its marketing team a foothold in New York City (the firm's U.S. operations are based in Connecticut). Now that said foothold is secure, the firm wants to explore its housing options in what is undeniably a tenant's market.
Mr. Klau wouldn't comment for this story. But sources say the firm is looking primarily in the vicinity of Grand Central Terminal.
drubinstein@observer.com