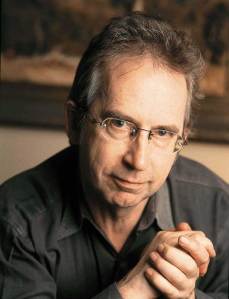 On Monday, Sept. 22, Chelsea's 192 Books on 10th Avenue was packed for a party celebrating Granta: 108 Chicago, the London-based quarterly's issue dedicated to the Windy City, featuring pieces by Don DeLillo, Aleksander Hemon, George Saunders, Sandra Cisneros and Stuart Dybek, among many others. "I feel like Chicago is having its moment right now," said acting Granta editor John Freeman , surveying the crowd. "The city is moving away from its past. The old housing projects are coming down, and there's a whole generation of writers who are telling their stories. Chicago writers have such a sense of place. That's something that's slightly missing from literature in general."
The issue's formidable roster might have been even deeper; the editor said that a few big fish got away, including Dave Eggers (who is a bit busy this year, with three books and two movies). Despite this, Mr. Freeman achieved a coup with the inclusion of an excerpt of two-time Booker Prize winner Peter Carey's forthcoming novel, Parrot and Olivier in America, which will be published by Knopf in April.
Mr. Carey said he was drawn to Granta by the promise he sees in Mr. Freeman, who was appointed to his position this summer. "I was very pleased to do it because he's just starting, and people will be paying a lot of attention to him," Mr. Carey said. "I trust him. I trust his taste."
Though Mr. Carey, a native Australian, has lived in the U.S. for more than 20 years, he said he never felt qualified to write a novel about his adopted home. After studying de Tocqueville's Democracy in America, however, he found his story: a 19th-century tale of Europeans in America that pokes holes in contemporary capitalist culture.
Mr. Carey marveled at how well the Frenchman's arguments had aged over time. "If you're worried about the dumb culture that we're living in, well, he worried about it, too," Mr. Carey said. "You read Democracy in America and imagine hedge fund morons fighting in the mud about which Jeff Koons painting they're going to buy. It's all there."