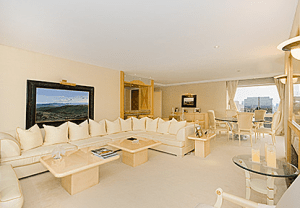 Carlos Peralta, whose entry in Forbes' 2003 billionaires list mentioned his interest in hydroponic tomato-growing and baseball, also has a good eye for comically plush real estate.
According to city records, a high-floor apartment at Trump Tower that came on the market with broker Mark Shemel for $13.5 million belongs to the Mexican telecom mogul. Listing photographs show a place with a lot of yellow ("off white," Mr. Shemel argued); a lot of glass ("I don't know if you know Lalique? It's a very well-known glass-designing brand"); plus a lot of pillows (10 on one couch, more on a bed that's under a mirrored ceiling).
And Mr. Shemel pointed out that there are padded walls: "It's all about that cozy feel," he said, "all about that nice, comfortable, warm feeling."
But most important of all, of course, is a Jacuzzi that juts into the master bedroom. Sadly, there are no photographs of the thing, but a wonderful floor plan shows the tub to be about the size of the apartment's maid's room. "A lot of interest in the design itself usually comes from South Americans, Mexicans, Russians, Eastern Europeans. They like the gold finishes, the large Jacuzzi in the bedroom, the quilted walls, the carpets, they like that feeling," the broker offered.
He said that the place was decorated in the late '90s by François Zuretti, the yachting designer. Mr. Peralta is known for having one of the biggest yachts on the globe, which "took two years in dreaming, three years in building," he once told Vanity Fair. His Swarovski-crystal-coated Princess Mariana reportedly has "six decks, six bars, 1,600 movies, 16,000 pre-programmed songs, three chefs, a cellar with 2,000 bottles of wine and 1,000 bottles of tequila, a laundry, a wall that opens to turn a bedroom into a terrace" and fingerprint-identification pads on staterooms.
The Trump Tower listing says the views stretch to the Catskill Mountains. Is that true? "Just the shading of the mountains," Mr. Shemel explained. "It's not snow-capped peaks or anything. It's the hills that start up early in the region." He paused for a moment and added: "I call them hills because I'm used to West Coast skiing, so."
The listings Web site Streeteasy shows that the apartment came on this month, but Mr. Shemel said he's been showing the place since June. Either way, the $13.5 million price is high: There's a two-unit, 3,065-square-foot apartment on the same floor that's asking $7.5 million, or only $2,446 per square foot (less than half of Mr. Peralta's $5,378).
Frontline and The Times have reported extensively on Mr. Peralta's murky ties to Mexican ex-president Carlos Salinas' family. Why is he selling? "From what I understand, he's not there for more than five or six days a year," his broker said. "There were times when he was there more often, and now he's not."
mabelson@observer.com