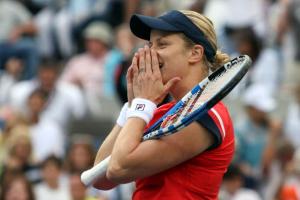 Since around the time Kim Clijsters retired in 2007, the women's game has been in rapid decline. Look no further than this past week for an example: top-seeded players have dropped left and right in the opening rounds.
With Melanie Oudin's gorgeous upset of Maria Sharapova yesterday and Clijsters' victory over Venus Williams this afternoon, the women's game is again showing signs of life.
Disregard the first two sets in today's Clijsters-Venus match, both won at love. Consider them a prelude. You had one set in which Clijsters demonstrated that, yes, she is still capable of absolutely brilliant tennis. The second set proved, yet again, that Venus Williams won't ever go quietly away, even when she's struggling.
The match really began in the third set and it was fifty-two minutes of well-balanced brilliance. No service game was a lock, and no powerful forehand hit into a corner was ever safely a free point. Venus and Clijsters moved each other around the court, trading long, mesmerizing rallies. Clijsters had an early break in the set, and held onto her serve, even in the last game when she was facing the biggest stage she's experienced in over two years and 0-30 down to one of the greatest champions ever. She got a little help–Venus seemed to forget how to hit volleys and overheads throughout the set–but she brought home that last service winner all on her own.
Oudin and Clijsters have given the game the shot in the arm it has been craving. Most notably, they haven't caved under pressure. Marion Bartoli told me earlier this week that Clijsters' real test would be to see how she confronts her nerves in a match against Venus and Serena. She passed that test today.
The two losers this weekend, Venus Williams and Maria Sharapova, both slowed by apparent injuries, are experts at grinding out victories. Unlike the rest of the women on the tour recently (Dementieva, Ivanovic, Jankovic), Oudin and Clijsters have proven they can do it, too.
Let's look forward: On one side of the draw, Oudin has a pretty solid look at the finals. On the other side, if Clijsters can take down Li Na of China, she'll be in the semis against Serena.
(And what's that? All week we've been hearing rumblings of a Justine Henin comeback!)
It's been one of the great weekends in U.S. Open history, and one of the great weekends in women's tennis in a long, long time.