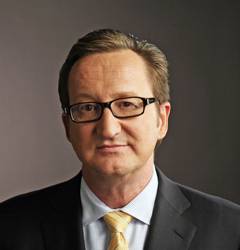 CNBC executives have cancelled their prime-time Dennis Kneale experiment.
For the past five months, Mr. Kneale, the former managing editor of Forbes, has been anchoring the cable news network's 8 p.m. hour.
Not long ago, we caught up with the 52-year-old business reporter to talk about his lively on-air campaign against anonymous bloggers. While the war of words generated lots of buzz for Mr. Kneale, ratings were for the most part lackluster. CNBC has long struggled to gain a significant prime time audience, particularly at 8 p.m., which is the most competitive hour in cable news (see O'Reilly, Bill and Olbermann, Keith).
At the moment, CNBC is staring down a major challenge to their bread-and-butter a.m. programming–next month, Don Imus makes his debut on rival Fox Business Network, where he will go head-to-head with CNBC's Squawk Box.
Towards the end of August, Mr. Kneale went on vacation. While he was gone, CNBC replaced his 8 P.M.. show with repeats of their popular dude-friendly documentaries, which range in subject matter from porn to pot, to escorts and race cars. Sure enough the documentaries put up better numbers at 8 P.M. than Mr. Kneale.
When we caught up with Mr. Kneale on Friday afternoon, he was understandably disappointed.
"They always told me it was a temporary gig," said Mr. Kneale. "I was lucky to have 5 months anchoring my own show on national television. It was fun."
"The quality was high," he added. "The ratings were low."
The change is effective immediately. So Mr. Kneale will not get a chance to say goodbye to his 8 p.m. audience. Nor will he get to take one final shot at anonymous bloggers.
"I'm really proud of what the small team on this show produced," said Mr. Kneale. "We had some great moments. But also, I'm mildly devastated. Oh god, it was so fun. Sometimes when great things happen, you wonder if it's too good to be true. Mystery solved."