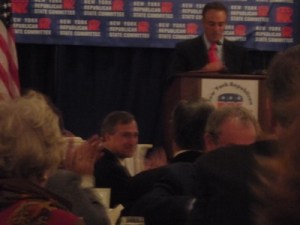 COLONIE—Is this Ed Cox's guy?
Erie County Executive Chris Collins just addressed a meeting of the Republican State Committee as it prepares to elect Ed Cox chairman. Collins backed Ed Cox over Henry Wojtaszek, the chairman of the Niagara County Republican Committee, and Collins has been making the rounds in preparation for a statewide run.
While he hasn't formally declared a statewide candidacy, the speech he just delivered sounded a lot like a stump speech, and a lot like the speech Rick Lazio gave last week as he declared his candidacy for governor.
(Lazio arrived just after Collins' speech, shook his hand, and sat at the lead table with the Cox family and Dean Skelos; Collins is sitting with Randy Daniels, Rapp Rappleyea, Tony Casale and State Senator Kathy Young. Lazio spoke several minutes later, during lunch and thanked Collins for "sharing some of his accomplishments in Erie County with us all.")
Collins' speech comes the same day as a report that Rudy Giuliani, generally considered the strongest Republican candidate, is not returning Cox's phone calls. Giuliani, who heavily backed Wojtaszek, is in Kentucky today. (Wojtaszek is sitting in the corner.)
"New York State today is a disaster: we are in crisis," Collins said, drumming up applause. "Imagine a future where New York State has reclaimed its past glory as the empire state: a place where people want to live, a state where businesses want to locate and a state where tourists want to visit."
"It will take heavy, heavy lifting to get there," he continued. "When we look at Albany and we say, what's wrong, we need to address these very straightforward problems."
He listed some ideas, most of which stem from the idea of doing head-on battle with unions: repeal the Taylor Law, deal with "bloated state government with too many employees" and "completely unaffordable and unsustainable pension program."
"Frankly, we need to implement lean Six Sigma, and let it roll across New York as it rolled across Erie County," he concluded. "2010, ladies and gentleman, will be the year that Republicans and the taxpayers take beck control in Albany."