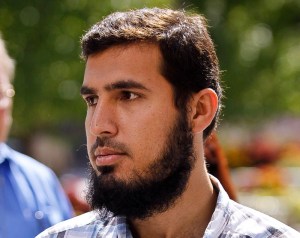 Sunday's early evening stabbing on the steps of the midtown post office was a weird incident by any measure; "the circumstances seemed improbable for a fatal encounter," says the Times. It was light out, and Christopher Gutierrez and his assailant were apparently strangers.
The attacker remains unidentified, but the Post reports that, in addition to security camera footage, the authorities also have photographs of the suspect taken by an "eagle-eyed tourist":
The German visitor caught the coldblooded killer on his camera as the fiend went to retrieve his cellphone near the scene before fleeing again, sources said.
In a less compelling (but mouse-clickier) use of photographic evidence, the Daily News has a slideshow on Najibullah Zazi's arrest. It includes a photo of a hotel suite "like the one" where Zazi stayed while working to build explosives.
The Daily News reports that rape statistics in Queens are up this year, a change that officials attribute to more thorough reporting (especially of acquaintance rapes) rather than to an actual increase in the number of attacks. The borough's other felonies are down.
But elsewhere in the city, and in the pages of the Post, theft and shady financial dealings seem to be doing okay. "Mini Madoff" Marc Dreier ran a Ponzi scheme because he desperately wanted a Hamptons beach house ("Dune in by his own Greed"); he is now dismayed to find jail unpleasant. John Orlando pleaded guilty to stealing more than $432,000 from his cousin, an ailing Brooklyn priest. And Frank Dody, principal of the Island Academy at Rikers for incarcerated teens, has been forced to step down following a Department of Education probe. The investigation found that he spent "exorbitant" sums on equipment that later dispappeared:
One staffer at the school, which has more than 900 students, said a storage area full of equipment that was accessible to correction employees was dubbed the "Ikea Warehouse."
And on the streets of the Bronx, "parking hustlers" have become "as ubiquitous — and scary — as squeegee men in the 1980s." They'll just take your money and "stand around smoking weed."