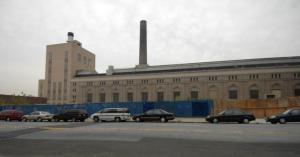 Former Esquire owner Christopher Whittle's plans for a Durst-developed, for-profit private school on the far, far West Side, which were hobbled by the collapse of financing, are back on track now that Mr. Whittle has found new funding for the project.
Douglas Durst revealed the project's resumption to the Commercial Observer's Jotham Sederstrom in an interview that ran on Tuesday. And Thursday, Jody Durst filed plans with the city's Department of Buildings to erect a new, 285,555-square-foot educational facility at 625 West 57th Street, between 11th and 12th avenues.
The purpose of the colorful Mr. Whittle's Nations Academy is, according to its Web site, to "offer an internationally integrated, globally-focused education program for students age 3 through 12th grade. Each campus will be focused around Nations' curricular and institutional ethos, stressing the highest academic standards, independent learning, collaboration, and global citizenship."
Whatever that means.
(Update: While the original plans called for a Nations Academy school, sources tell us that this time around, the school, while still Whittle-run, will have a different identity.)
At any rate, the school will have all of the amenities that New York's chauffeur-driven little darlings have come to expect: a squash court. A swimming pool. And lord knows what else.
According to the application, the school will be designed by Perkins Eastman, which has a portfolio thick with educational projects, from the expansion of Princeton Day School to the World Academy International School Abu Dhabi.
The firm is also co-designer of the planned Mott Haven School Campus in the South Bronx.
drubinstein@observer.com