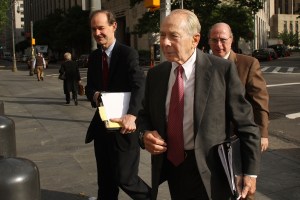 More than a year after he resigned the governorship, and nearly three years since he was Attorney General, Eliot Spitzer is still agitating Wall Street executives.
Yesterday, former A.I.G. C.E.O. Hank Greenberg asked a federal judge to dismiss a suit Attorney General Spitzer brought against him in 2005, which claimed Mr. Greenberg misled investors.
"At that time, Spitzer was planning to run for governor of the state of New York, and he has since admitted that his high-profile pursuit of Greenberg achieved its intended objective of enhancing his reputation as he pursued higher office," wrote Mr. Greenberg's attorney in a filing.
Apparently, for some reason, Mr. Greenberg doesn't think current Attorney General Andrew Cuomo, who inherited the suit, will voluntarily drop the case.