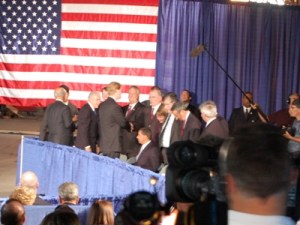 "It wasn't awkward," John Sampson said of the dinner where he and others discussed the White House's desire not to have Paterson run next year.
 Doug Mills captures the moment.
More chance for awkwardness on October 20.
New York is to Obama as Iraq is to Bush.
Carl McCall could, conceivably, back Cuomo.
The NRCC has an article on its site calling Dede Scozzafava too liberal.
Lee Miringoff thinks White House intervention is mostly about protecting Kirsten Gillibrand.
Avi Schick described his affiliation with ESD differently at his new firm.
Barack Obama's speech was a boost for the SUNY system.
Sara Kugler anoints Bloomberg "King of Obscure Endorsements."
Adam Lisberg says David Yassky is "figuring it's time to go for broke" against John Liu.
Readers debate which comptroller candidate is the bigger liar.
Reader Edward B Woody Ryder IV has an out for Paterson: U.S. District Court.
Rick Lazio personally announces he will announce tomorrow, in person, again.